This post will help you choose the perfect massage table for your home. [Advice from a licensed massage therapist.]
Reading time: 2min, 6sec.
"What massage table should I buy for my home?"
I get asked this question frequently by new clients looking to buy a massage table for their home.
Clients want to know what massage table I recommend, where to buy the table, and how much they should expect to spend.
There are tons of choices – from aluminum tables to wooden tables, portable to stationary, and budget to expensive.
With all the options and choices online, it can get overwhelming when searching for the perfect massage table for your house.
So, I have simplified it for you.
In this post, I will give you my opinion on which massage tables are the best to buy for your home. I based these recommendations on massage tables I have used in my mobile massage practice and tables I have received massage on (unless otherwise noted). When I shop for a massage table, I look for comfort, stability, durability, and safety.
---
Real Quick. What qualifies me to give you advice on purchasing a massage table?
Hi. I'm Ann, a licensed mobile massage therapist, aka Massage Traveler.
Some people haul around kids. I haul around a massage table.
I travel to client's homes and provide therapeutic massage. After years of experience in the massage business, I know what makes for a great in-home massage table. I understand what clients look for and need in a massage table for their home.
I have helped many clients over the years choose which massage table is best for their specific in-home use. My clients usually buy the table I recommend and have never been disappointed with their table or supplies.
I am a licensed massage therapist who has helped many clients choose the best massage table to purchase for their home.
"What massage table should I buy for my home?"
The best massage table I suggest for my clients is:
My #1 choice (and the table I currently use) is the Oakworks Wellspring Massage Table.
I currently recommend the Oakworks Wellspring table to my clients looking to purchase a table for their home. I also use this table in my mobile massage practice.
The Oakworks Wellspring massage table is a high quality, portable, lightweight, sturdy, and durable massage table. And, just as important, it is comfortable. It's a great massage table to keep at your home – and the perfect table for any mobile massage therapist to use in their practice.
When I suggest this table to clients, the next question I get asked by the client is: "why should I buy a lightweight, portable table when the table will only be used at my house?". "Does weight really matter?"
Yes, weight matters. Unless you have a dedicated spa room where your massage table will stay permanently set up or a backyard spa building (which some of my clients do), you will need to be lifting and moving the table from time to time. The difference between a 39-pound table and a 28-pound table may not seem like a lot, but once you're carrying the table upstairs and carefully trying not to scratch the walls, that extra 10+ pounds makes a difference.
Another great reason to buy a portable, lightweight table for your home is you can bring the massage table outdoors and enjoy a relaxing outdoor massage during the summer months.
Even for clients with a dedicated massage space in their home, a portable table is still my first choice; however, with a dedicated massage space, you will have additional options with stationary tables.
So, my choice for the best massage table for your home is the Oakworks Wellspring Massage Table.
Purchase the Wellspring massage table here.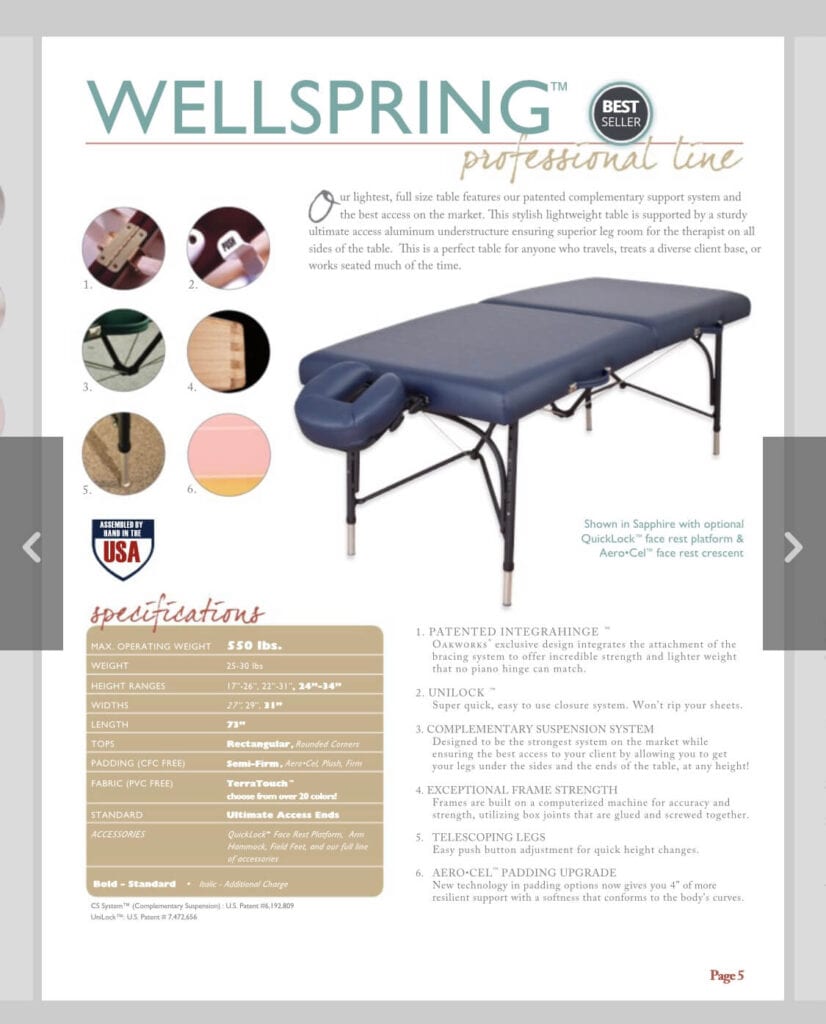 Features of the Oakworks Wellspring Massage Table
Professional massage table
Made in the USA
Family-owned business
Maximum operating weight – 550lbs.
Weighs approximately 28 pounds
Also, Oakworks has exceptional customer service.
Note: I have never had an issue with any Oakworks product I have purchased. I also own two massage chairs made by Oakworks. However, a few years ago, I had a mischievous kid remove a screw from the massage chair. I called Oakworks customer service, and they sent out a replacement part immediately. The representative was helpful, courteous, and gave overall excellent customer service.
Drawbacks of the Oakworks Wellspring Massage Table
The price. The Wellspring massage table is expensive.
You get what you pay for – and for me, it's worth it. Comfort is worth it, quality is worth it, and having a relaxing and better massage experience is worth it.
Think about it this way – you may spend a considerable amount of money yearly on gyms, gym equipment, and other health and wellness activities. Why not add massage and a quality massage table to the list? Whether you're getting a massage for stress relief, injury treatment, or a combination of the two, massage is another thing we can do to keep our bodies healthy. Having a good quality massage table will lead to a better and more comfortable massage experience. Trust me.
Why I use the Oakworks Wellspring Massage Table in my mobile massage practice:
(and why I also think it's a terrific option for mobile massage therapists)
In a nutshell, the Wellspring is the perfect mobile massage table.
The Oakworks Wellspring massage table is a top of the line massage table and is the perfect table for in-home and travel. It is portable and lightweight, yet very sturdy. There is plenty of legroom for the massage therapist on all sides of the table. The table is quick to set up and the telescoping legs easily and quickly adjust for height changes. Also, I prefer and like the look of aluminum tables.
What about Budget massage tables / Cheap massage tables?
The cheapest massage table will not do – especially if you have a professional licensed massage therapist come to your home. I do not recommend massage tables that are cheaply made. These tables are not stable, do not have solid construction, and will not support a heavier working weight. You will know the difference. A cheaply made massage table may creak or wobble, it will not feel sturdy, and you may feel like the table is about to tip over when you turn over during the massage.
As a licensed massage therapist, when a new client has one of the budget tables at their home, I am always hesitant to do deep work and exert a lot of pressure for fear the table may break or tip over. I usually tell the client I prefer to use my table and will get my table out of the car and use it instead.
The only time I may be open to using a budget table is if the client wants a massage modality such as Reiki, Reflexology, or any massage modality where there is no pressure used or has the client turning over on the table.
Additional things you will need to decide when purchasing your massage table.
Should you purchase just the massage table or the entire package?
The package will usually contain a carrying case for the massage table. I would suggest the carrying case, especially if you plan to store the table in the garage or basement or anywhere where the table can get scratched or torn.
The package will also contain a bolster to be placed under your knees for comfort. A bolster is a great option; however, a pillow works just as well.
2. Table Width choice: 29" or 31"
You will need to decide the width you want for your table, either 29" or 31". I would suggest 31" if you are a larger person – you will have more room on the table and more room while turning over.
3. Padding thickness
Your preference. The more padding, the more comfort. The Wellspring has four choices: 2.5" SemiFirm, 4" AeroCel for superior comfort, 3" Plush, and 1.5" Firm. For the most comfortable table, I would opt for either the Plush or AeroCel padding.
4. Height
The standard height for a massage table is 24" – 34" and this is what I recommend. The height of a massage table is based on the height of the therapist and is usually only adjusted when different therapists are using the same massage table. Height choices of 17" – 26" and 22" – 31" are also available.
MY WISHLIST! – The massage table currently on my wishlist:
Although I am happy with my Oakworks Wellspring table, I do have my eyes on another table from Oakworks that I would like to try out – the Oakworks Advanta Lite massage table.
The major reason for my interest in the Advanta Lite massage table is the ergonomic contour top. I'm interested to see how using this hourglass-shaped table will affect my body mechanics while providing massage and my ability to provide (quality) deep pressure on clients. Also, the Advanta Lite massage table looks to be a couple of pounds lighter than my current table, which is always great for travel!
Check out the Advanta table here: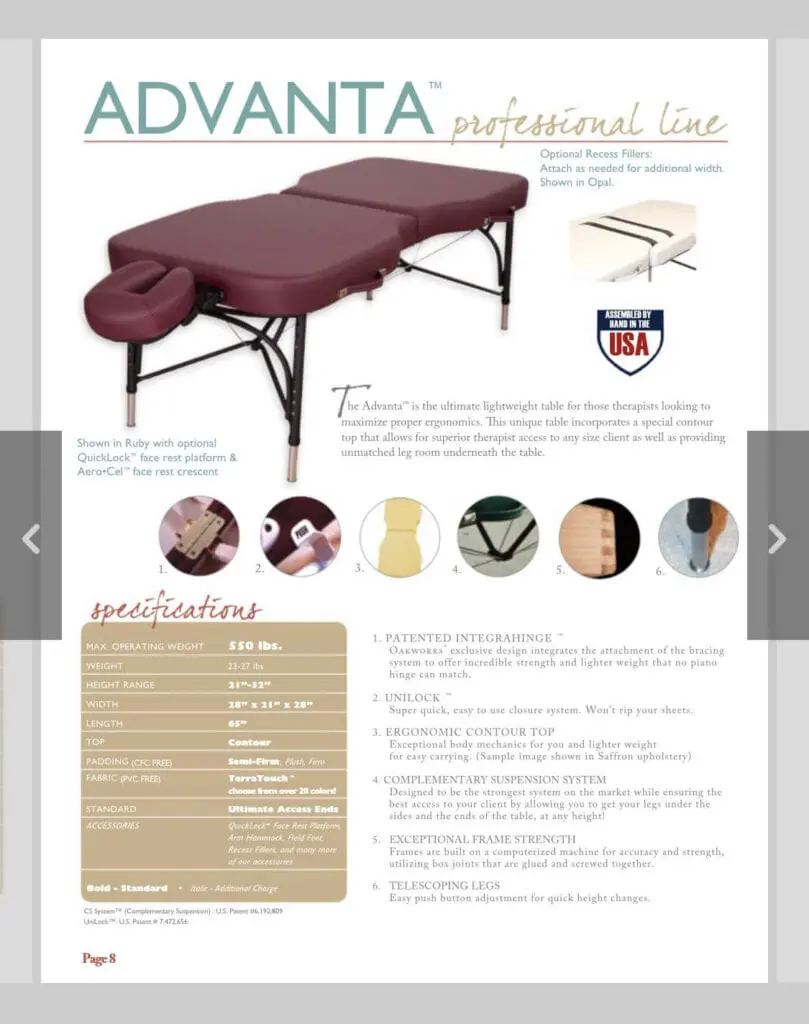 Other massage tables and brands that I recommend:
Earthlite
Earthlite is another company that makes top of the line massage tables.
Earthlite Pegasus massage table:
My all-time favorite, and the massage table I used for over 15 years in my business, is the Pegasus. Unfortunately, this table has been discontinued. Why did you discontinue this table, Earthlite? Why? It was perfect! Perhaps one day I will try your Luna table. I hear good things about it.
Earthlite Luna Massage table
Purchase the Luna Massage table here.
Stronglite – Versatile Pro Portable Table
Although I don't have experience working on this specific table, I have colleagues who love and swear by the Stronglite Versatile Pro Portable Table.
Purchase the Stronglite Versatile Pro Portable Table here.
Your table for one is ready.
Below are two ways to purchase the Oakworks Wellspring Table.
If you are ready to purchase the Wellspring massage table, get it here on Amazon.
OR
Purchase it directly through Oakworks here.
By purchasing directly through Oakworks, you can customize the color, width, height, and padding of the table.
TAKEAWAY
When searching for a massage table for your home, it's wise to invest in a good quality durable massage table. A good quality massage table will last you for years and provide a better, more comfortable massage experience.
Once you find the right table, the next step will be to find a great massage therapist!
If you're in the greater Seattle area, please check us out for a mobile massage at your location (chair massage or table massage) – massagetraveler.com
Enjoy your new in-home massage table. I'm sure it will bring you years of relaxation and happiness.