Reading time: 10-minutes 34-seconds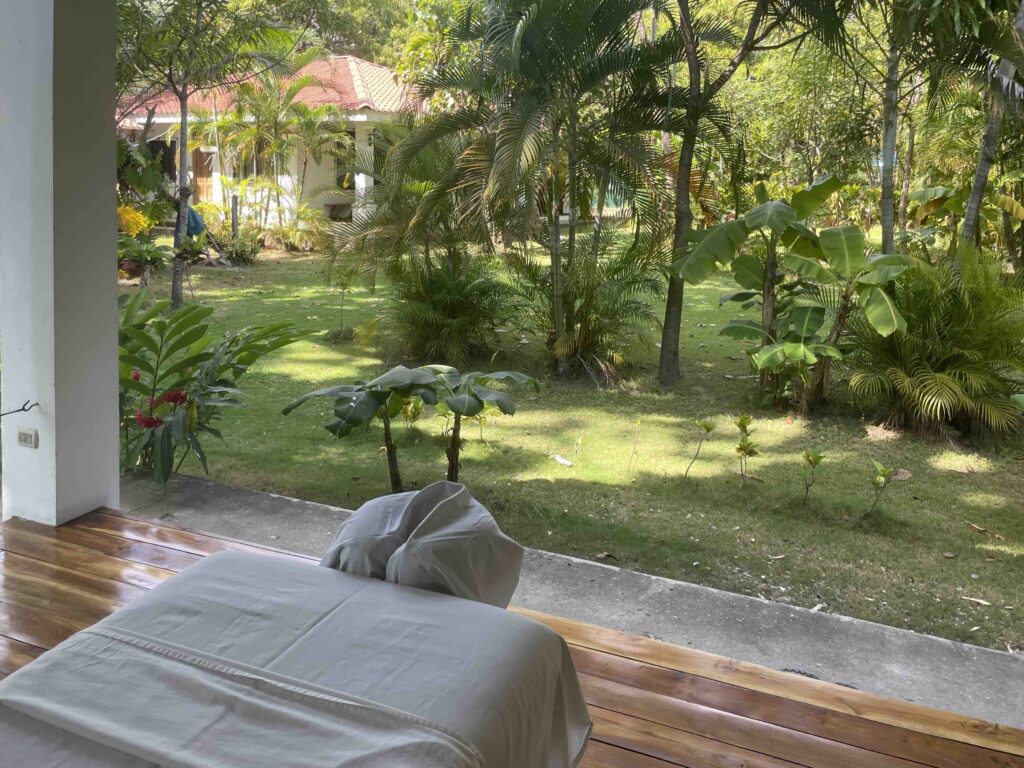 What To Expect When Taking An International Massage Continuing Education Class at Costa Rica School of Massage Therapy (CRSMT). Massage Traveler's Review.
In this post, you will find a review of my experience attending the Costa Rica School of Massage Therapy (CRSMT) for a 4-day massage continuing education class. I will share information and details of my experience in Costa Rica. I will also include additional tips and suggestions for those interested in attending.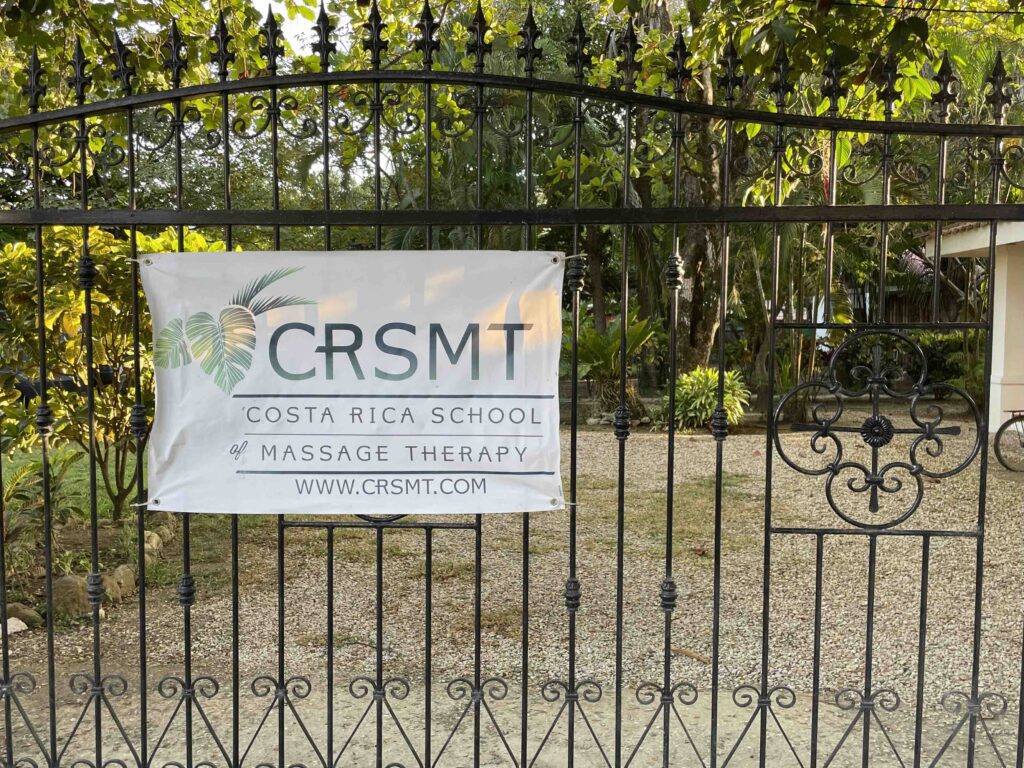 Why go to Costa Rica for massage continuing education?
International travel
An outdoor classroom
A school located 2 minutes from a tropical beach
Meeting other adventurous LMT's
Receiving 28 NCBTMB CEU credits
A phenomenal CEU certification class
Attending a COMTA accredited massage school
Sunshine in January!
These were a few reasons I chose to attend CRSMT for my continuing education credits.
I had hoped that CRSMT would live up to my expectations.
And, it did!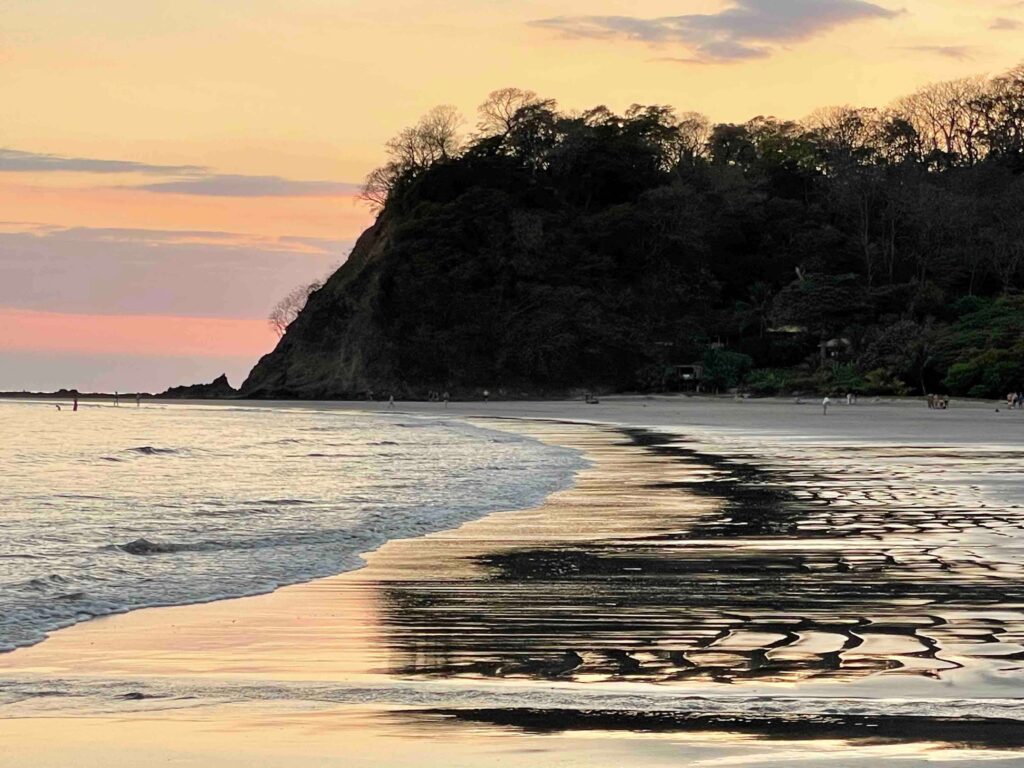 In this post, I will write about my experiences at CRSMT, what to expect, and things to do in Playa Samara. I will also share my travel itinerary details.
And, I have included tons of photos!
I hope to help you, inspire you, provide information, and answer some of the questions you may have.
NOTE: I am a licensed massage therapist in the US who loves combining my need for continuing education with my love of travel. I am not affiliated with the school.
NOTE: This review is for a CONTINUING EDUCATION experience at CRSMT. I did not attend the 4-month massage therapy program. I am already a licensed massage therapist.
I hope this review helps you.
You can request more information about the school by clicking here.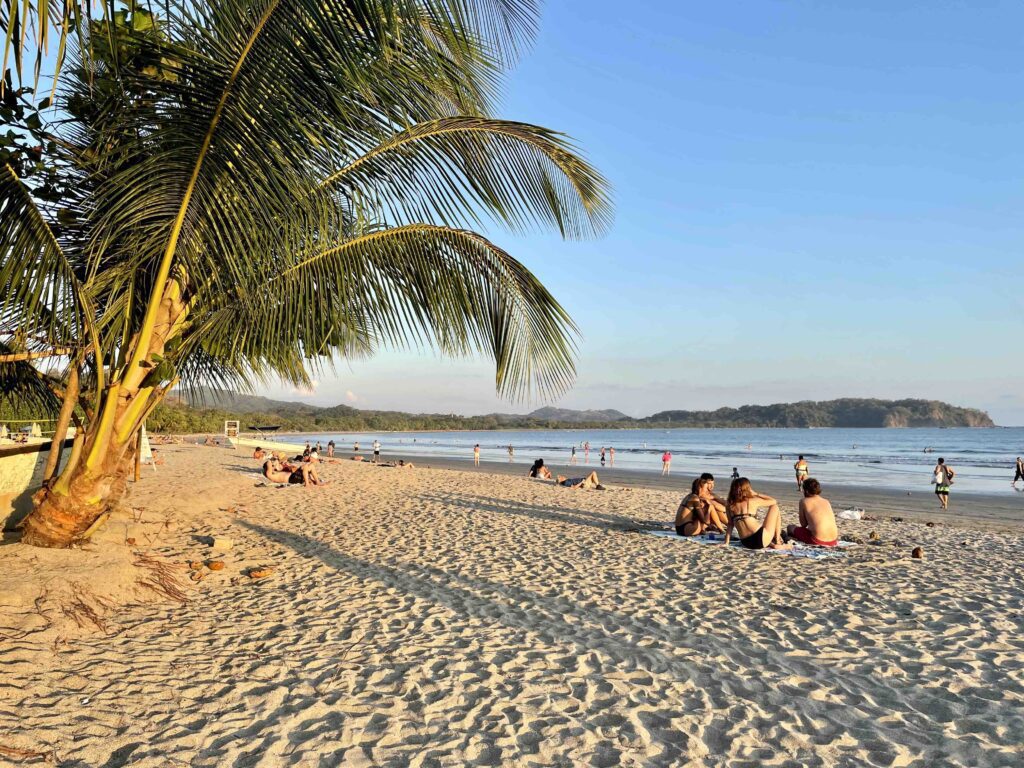 Why I chose CRSMT:
Location. I wanted to travel internationally and take a class in a beautiful tropical setting.
The information on the CRSMT website was encouraging. I had not heard of CRSMT before. I did not know anyone who had attended the school. Their website provided the information I needed and, it answered a lot of my questions. It looked promising.
The staff was very responsive. After reviewing their website, I had more questions. I sent over an email with my questions. I received a response within a couple of hours. A good sign.
One of my massage instructors while in massage school was on the CRSMT faculty. After putting down the deposit, I looked at the faculty page and recognized the name and picture of one of my massage school teachers from 20 years ago in Seattle. Great sign! I was confident this would be a great experience.
I would receive 28 NCBTMB CEU credits. These hours would also apply towards my Washington State CEU credit requirement.
There were several interesting continuing education classes to choose from. And, the instructors were very experienced. One of my goals this year was to get certified in cupping. The 4-day certification course was exactly what I was looking for. More about this class later.
This was the perfect opportunity to combine my love of travel with continuing education.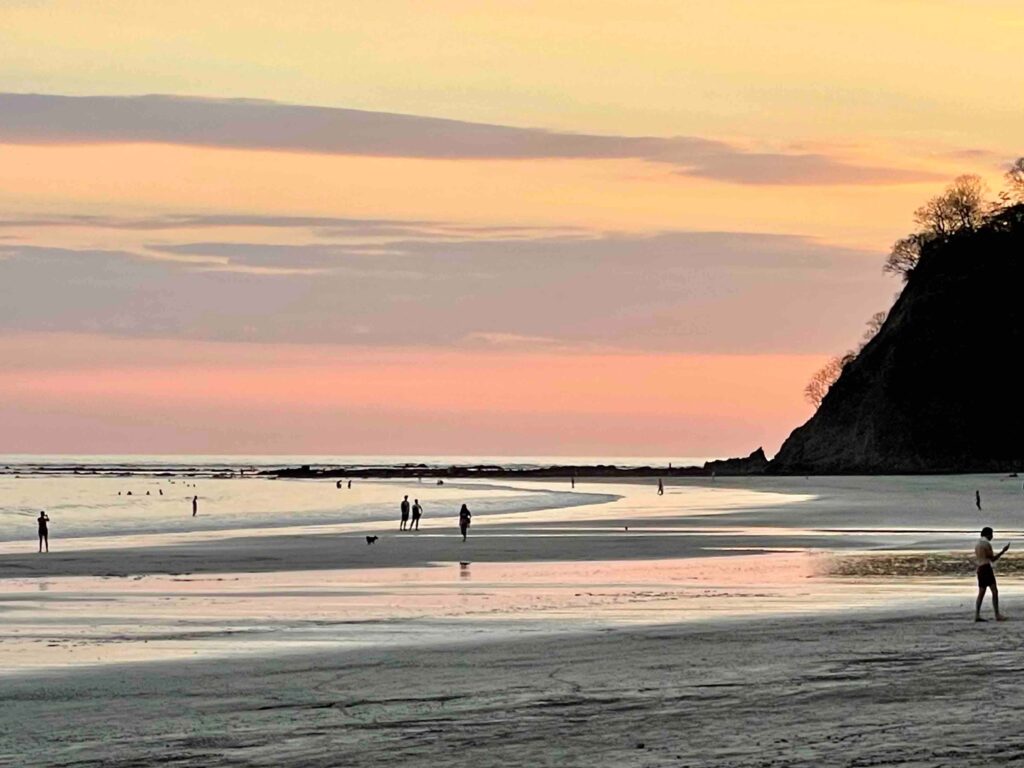 WHAT TO EXPECT
The school
The beach town of Playa Samara
Life on campus
CEU class
Tips and suggestions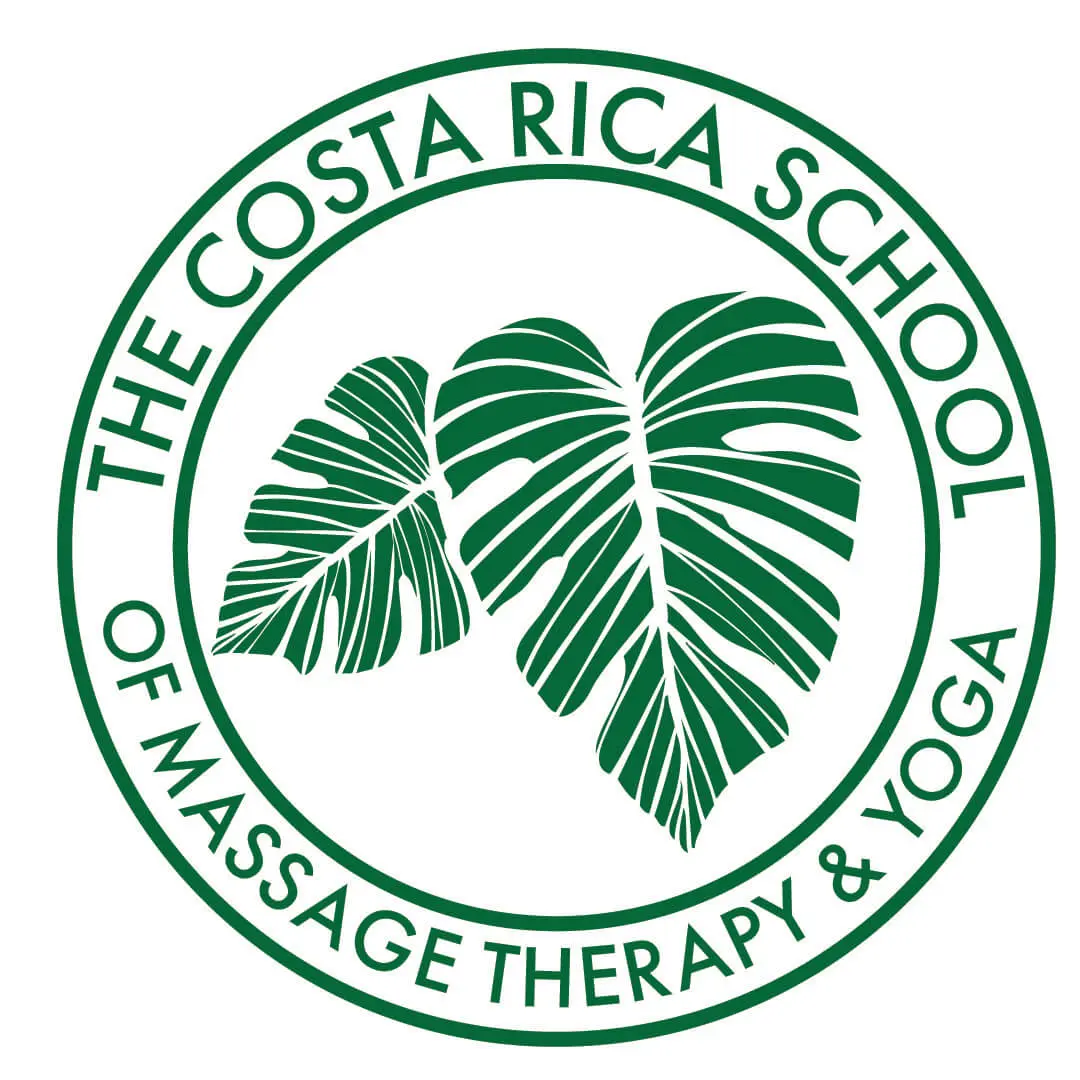 School – What to Expect
Registration – Registration was easy – everything is done online. I put down a deposit. The school notified me when the minimum number of people had signed up. I then bought my airline ticket and made arrangements to travel to Costa Rica. One of their requirements to attend the school is to provide proof of travel insurance.
The staff – All of the initial interaction with the school was online. The staff is very responsive to emails. They answered every question thoroughly.
However, I did have to initiate a lot of the communication. This was not an issue – just a heads up if you are like me – with the addiction of need-to-know. For instance, since I was traveling before the class, I wanted to make sure they had my name for the shuttle pick-up and needed a re-confirmation.
At the school, we had minimal in-person interaction with the school staff. Everything was seamless, so there wasn't much need for in-person interaction. The housekeepers on site were friendly and helpful.
Getting to the School
I flew into Liberia airport (LIR). The school is located about 2 hours from the airport by car. The school provides free transportation to the campus. They arrange a shuttle to pick you up from either the airport or your hotel near the airport.
Since I had arrived a couple of days early to Costa Rica, the shuttle picked me up at my hotel. There were 5 other students on my shuttle. The school arranged shuttles later that day for those students arriving at the airport that afternoon. The school will also arrange shuttles for your return trip to the airport.
Living on Campus – WHAT TO EXPECT
The campus is beautiful. It's like an oasis in the middle of a small beach town. Iguanas roamed the campus and I would hear howler monkeys in the mornings. Two screech owls hung out in the tree above my bungalow.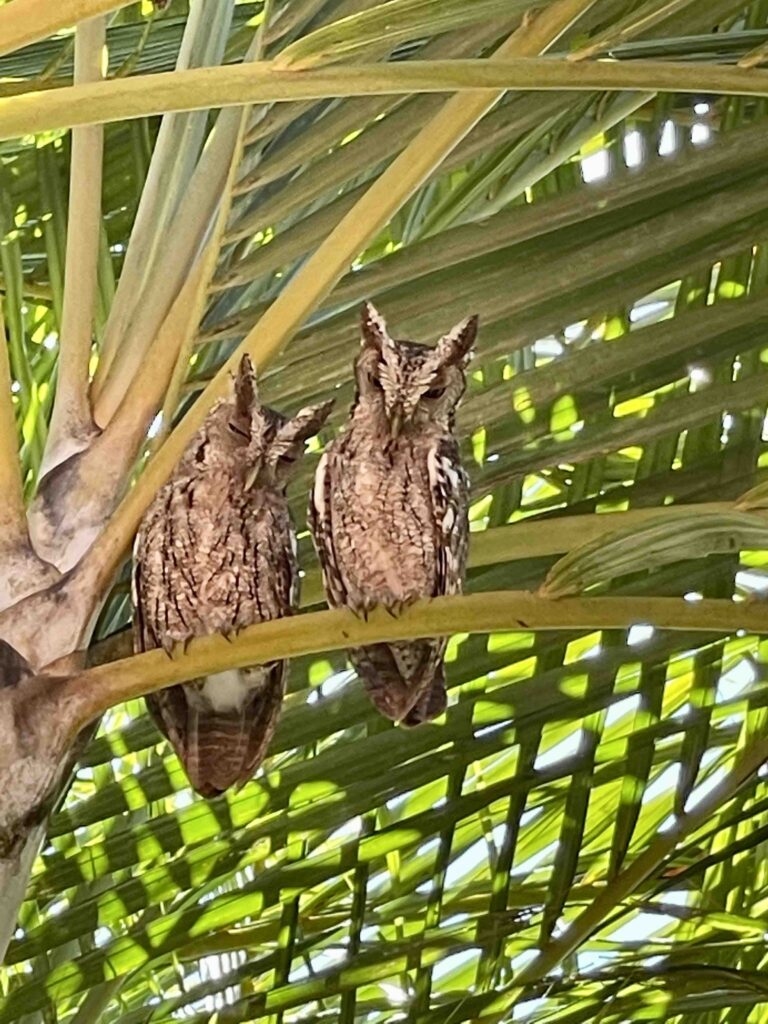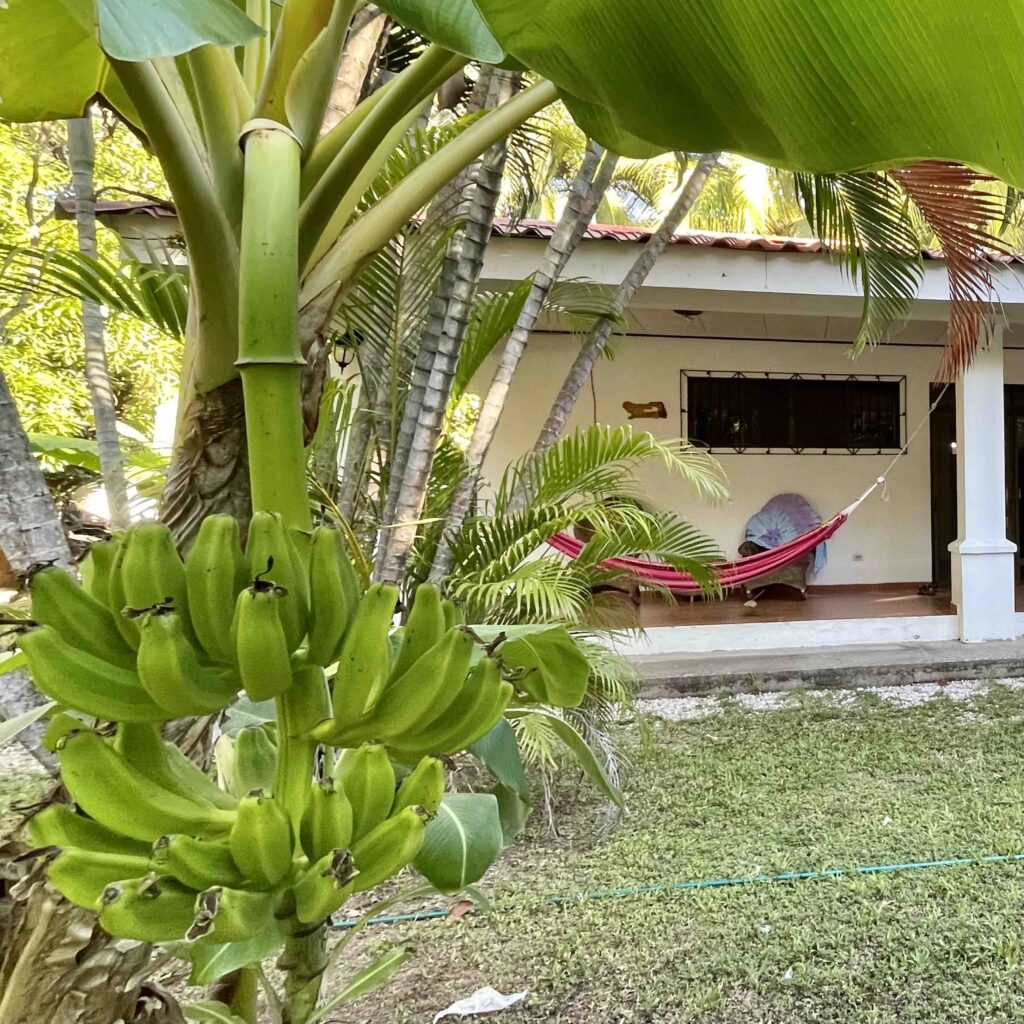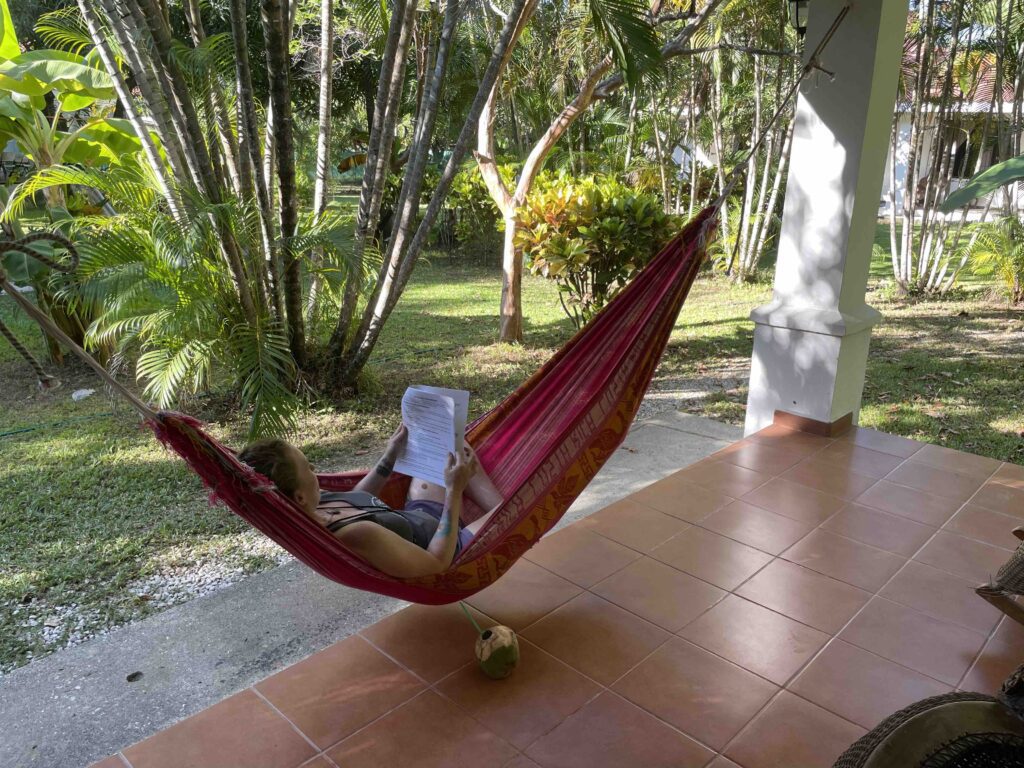 ACCOMMODATIONS
There are several different accommodation options from which to choose. The accommodations are simple yet perfect for a student experience. I shared a 2-bedroom bungalow with another person and, it worked out very nicely. There are also studio apartments available.
The bungalows were clean, fully furnished, had hot water for showers, and had fully equipped kitchens.
We had the option of adding air conditioning at an extra cost. Our first thought was yes, but since we were in class during the hottest part of the day and the temperature that week was pleasant, we opted not to add air conditioning. The living area and each bedroom had standing oscillating fans. The fans were all that we needed.
There is free wifi available on campus.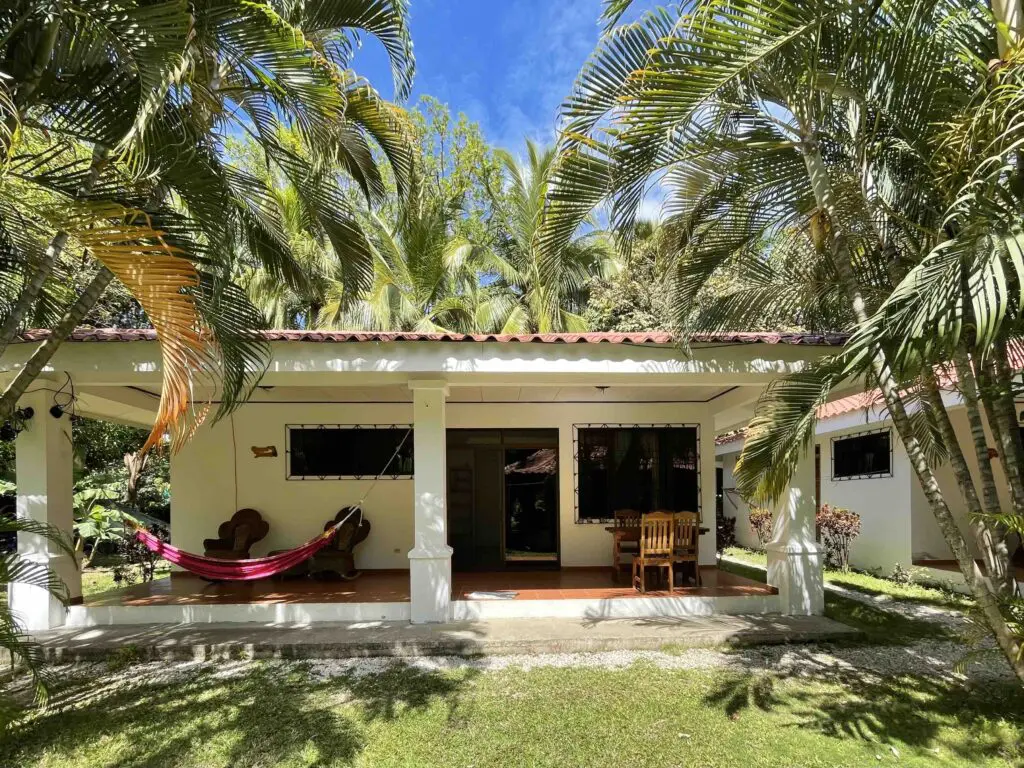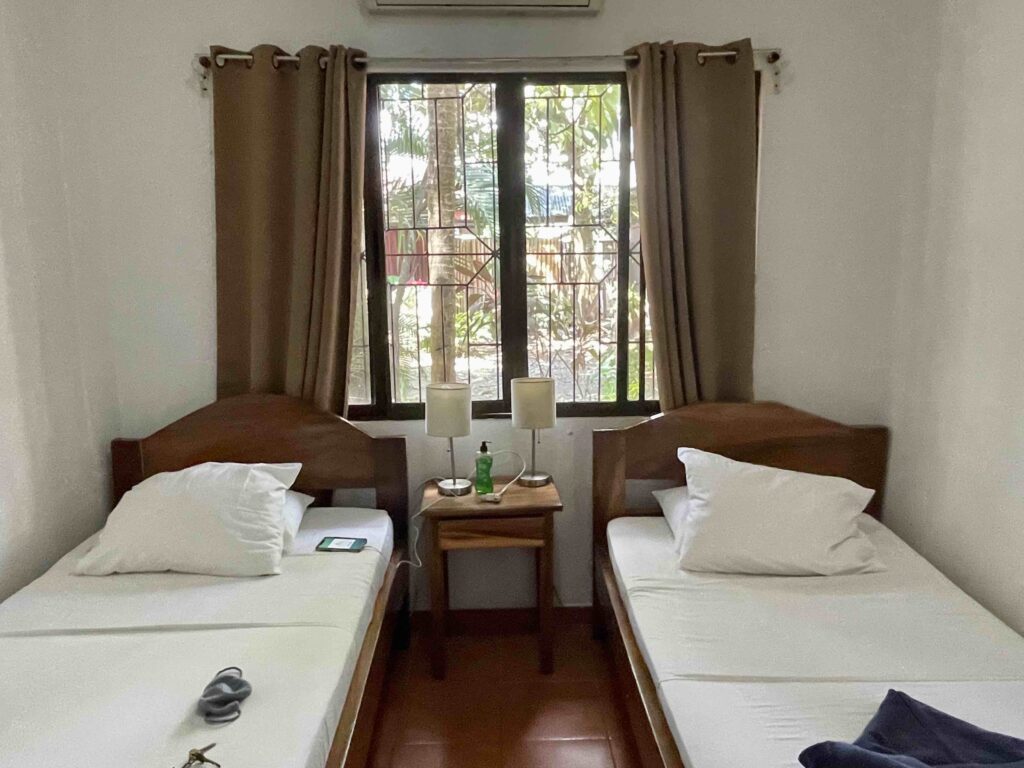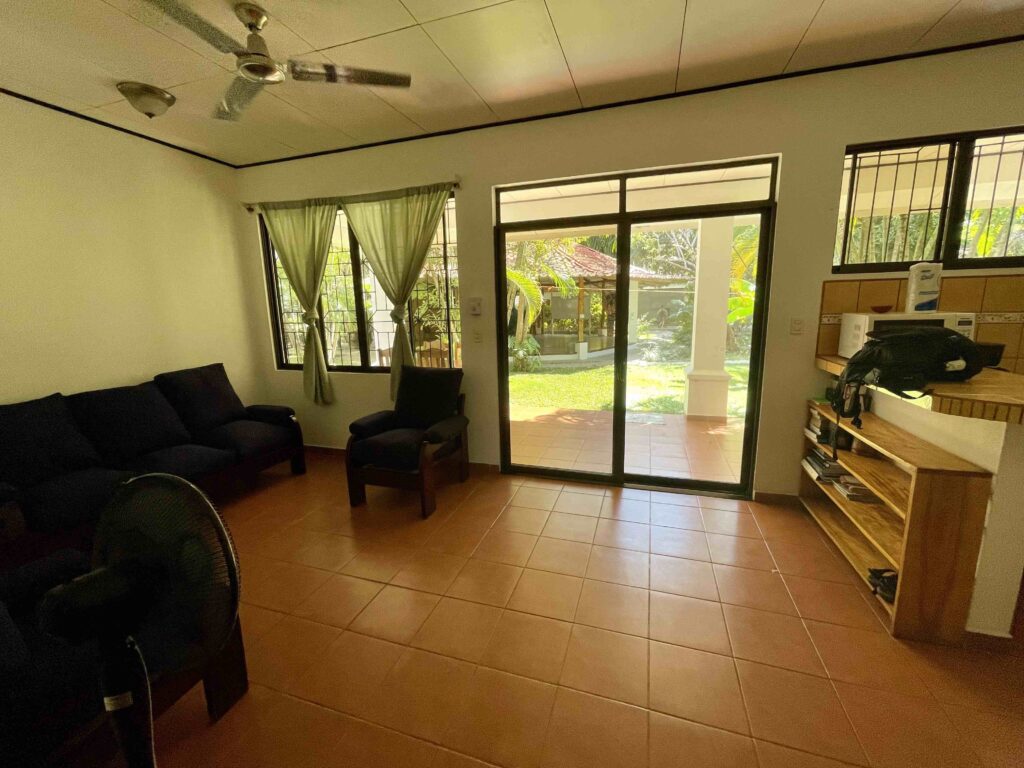 THE CLASSROOM
The classroom is large and open-air. Ceiling fans help keep the area cool.
It is a lovely space for massage.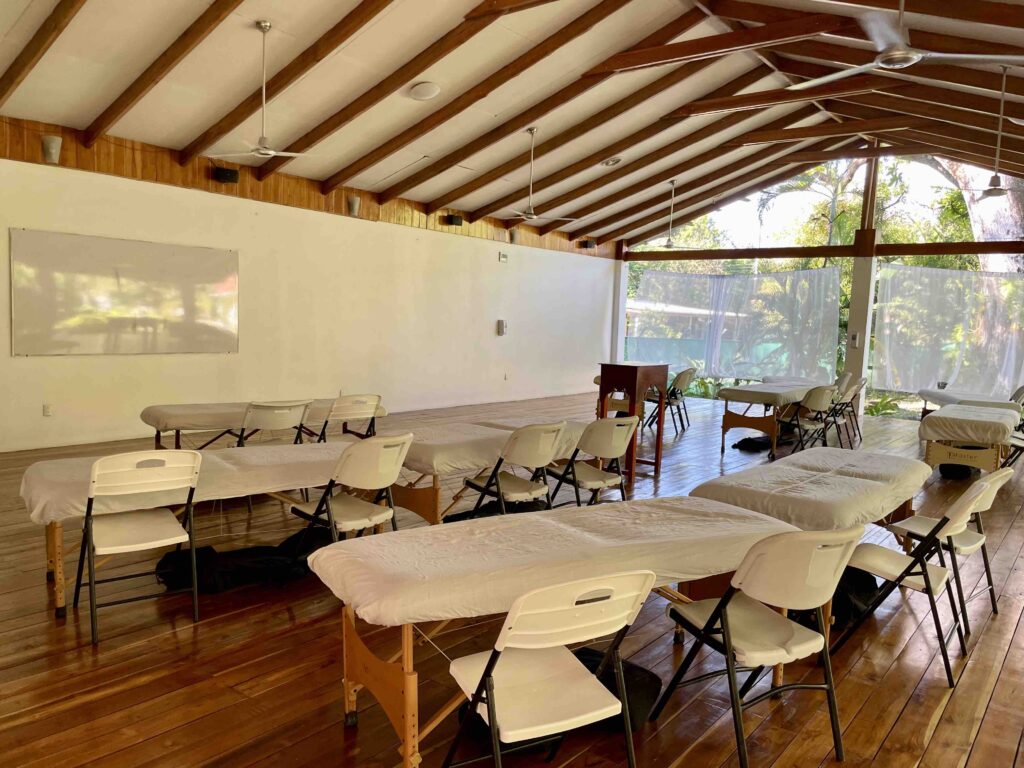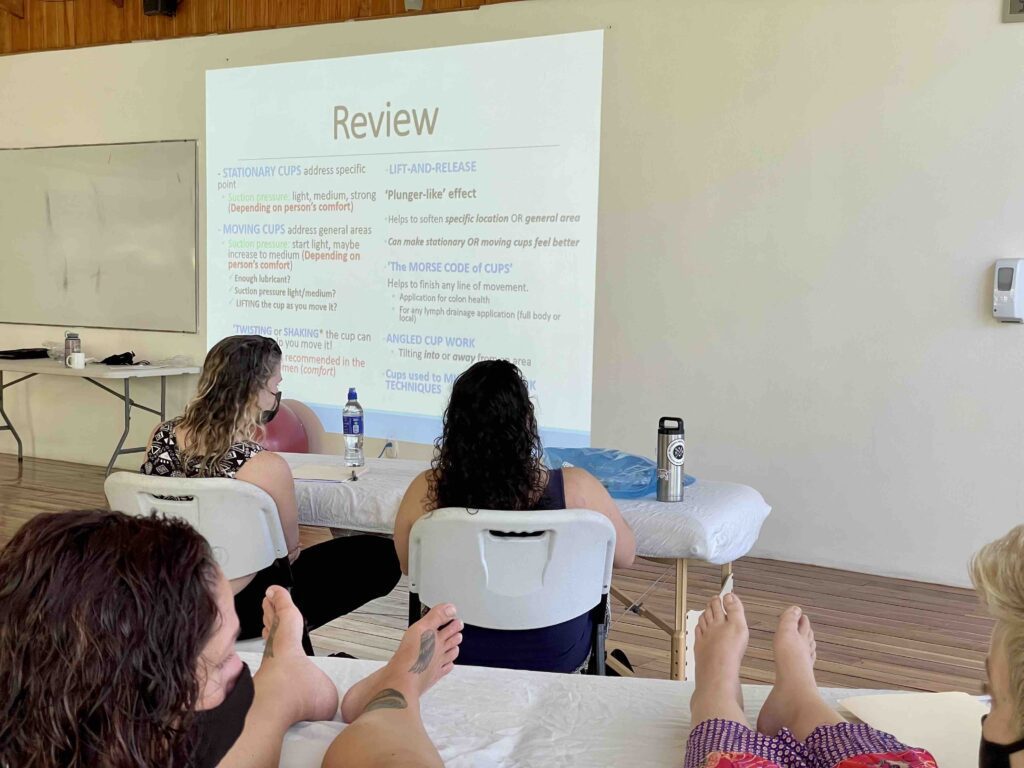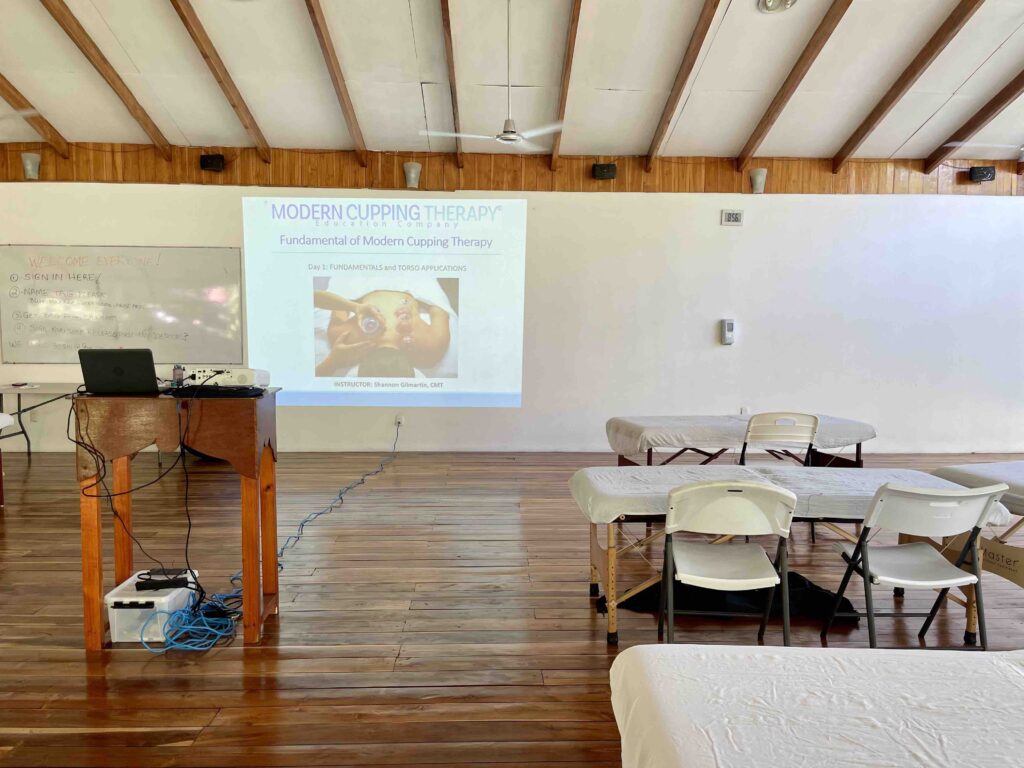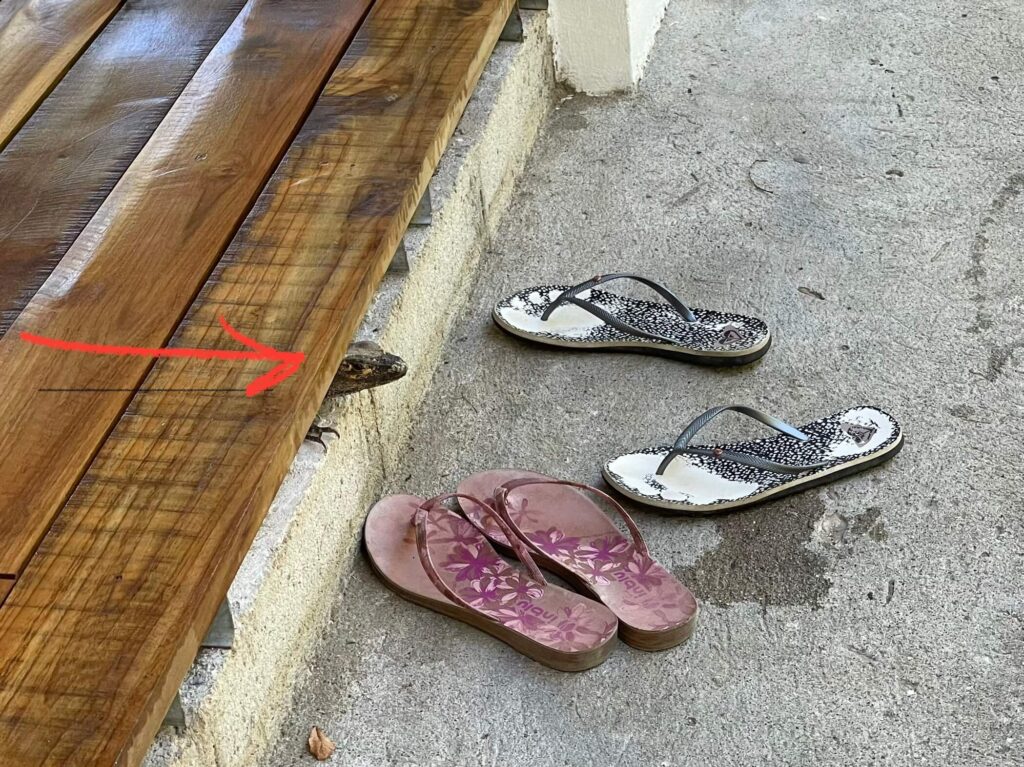 MEALS
Meals are not provided. A grocery store and fruit stand are a 2-minute walk from the school. There are also many restaurants in town. There is a coffee maker in each bungalow. For those of you wanting to visit a coffee shop, there is a local coffee shop, Roots Bakery, a 5-minute walk from campus.
Beach town of Playa Samara – What to Expect
Samara is a chilled-out beach town with a large white sand beach and lovely sunsets.
The town is walkable – everything is within a 10-minute walk.
The town is touristy – but not yet overcrowded like some other Costa Rican areas.
There are many beach activities to choose from:
Swimming
Surf lessons
Snorkeling trips
Kayaking trips
SUP
Horseback riding
Self-guided morning yoga on the beach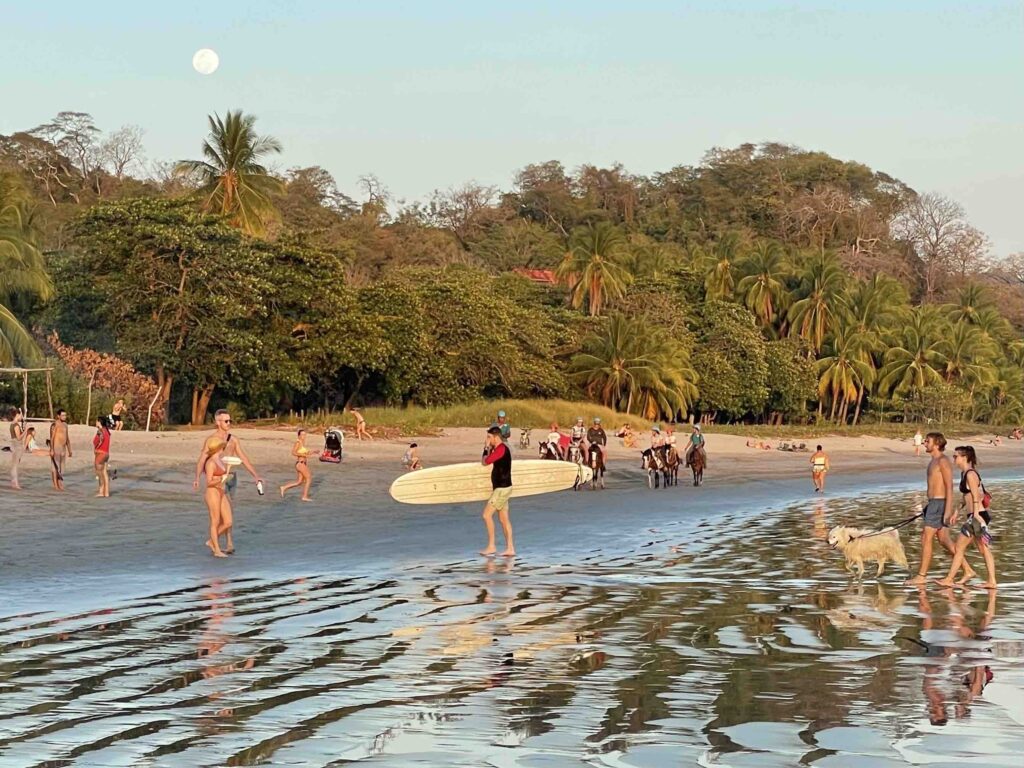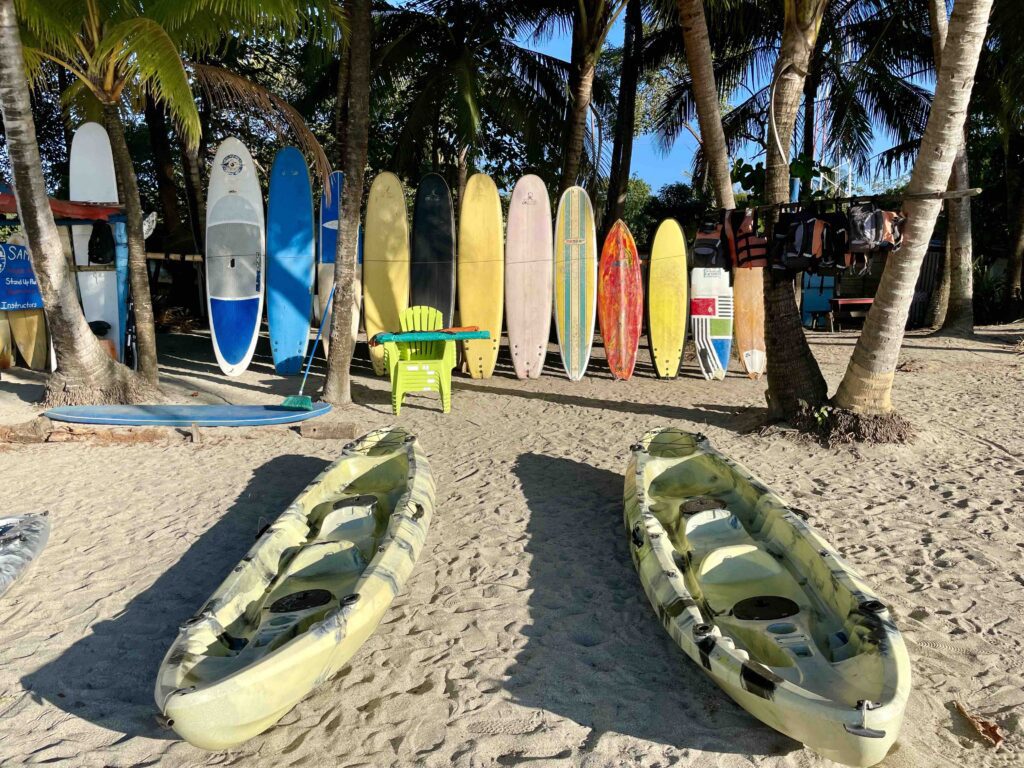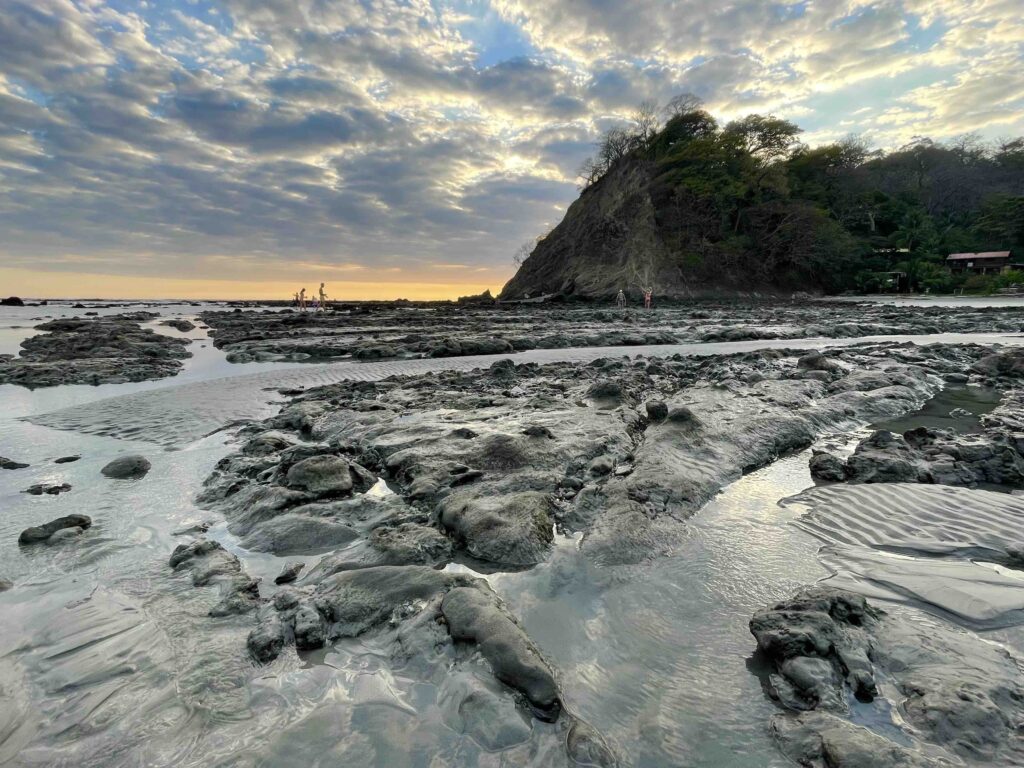 My fellow massage therapist classmates:
20 massage therapists attended the class. 18 students were international students; 2 were local.
The experience levels of the massage therapists ranged from 2 years to over 20 years.
We had a great group of people. While spending time on the beach, you could tell who was in our group – we were the ones with the many cupping marks on our bodies.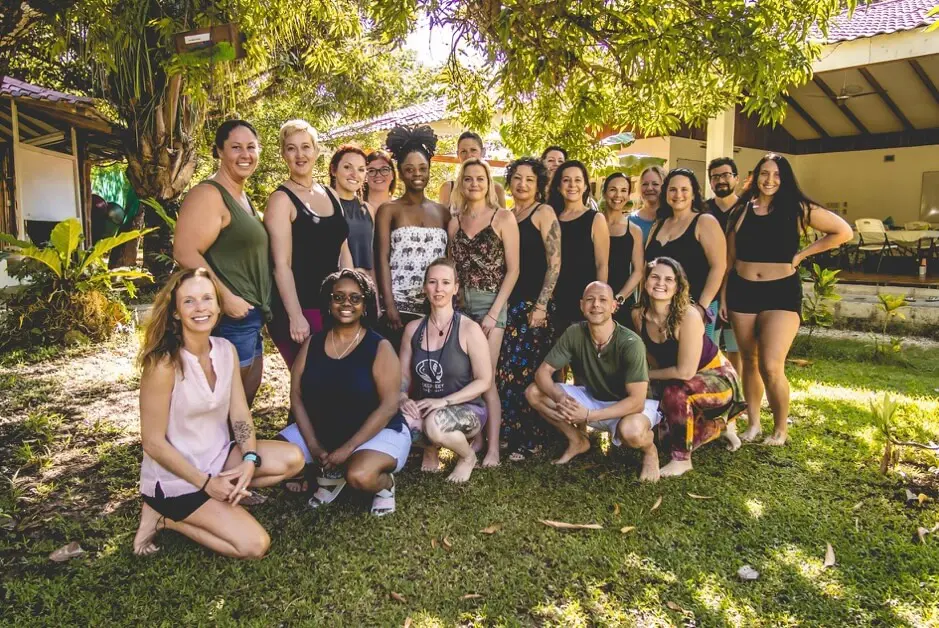 Highlights of my trip:
I learned to surf! I didn't even think I would be able to stand up on the board. But by the 3rd try, I was surfing!
I took one of the best comprehensive CEU classes of my career.
I had the opportunity to slow down, connect with the sounds of nature, get out of my head, and learn something new.
My favorite highlight of the trip was my sweet study buddy!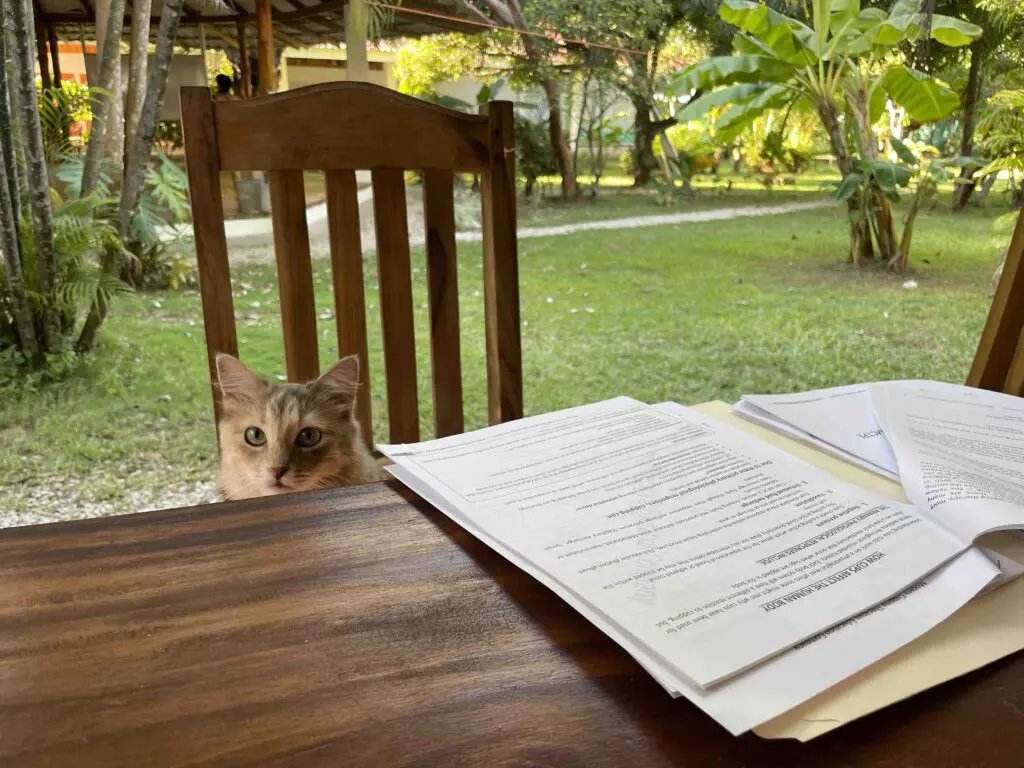 CEU Class – What to expect
Modern Cupping Therapy Workshop (4-day CERTIFICATION PROGRAM)
The Modern Cupping class was phenomenal! The instructor is extremely knowledgeable, passionate, and inspiring.
Before taking Shannon's Modern Cupping Therapy class, I was interested in cupping. Now, I am excited about cupping!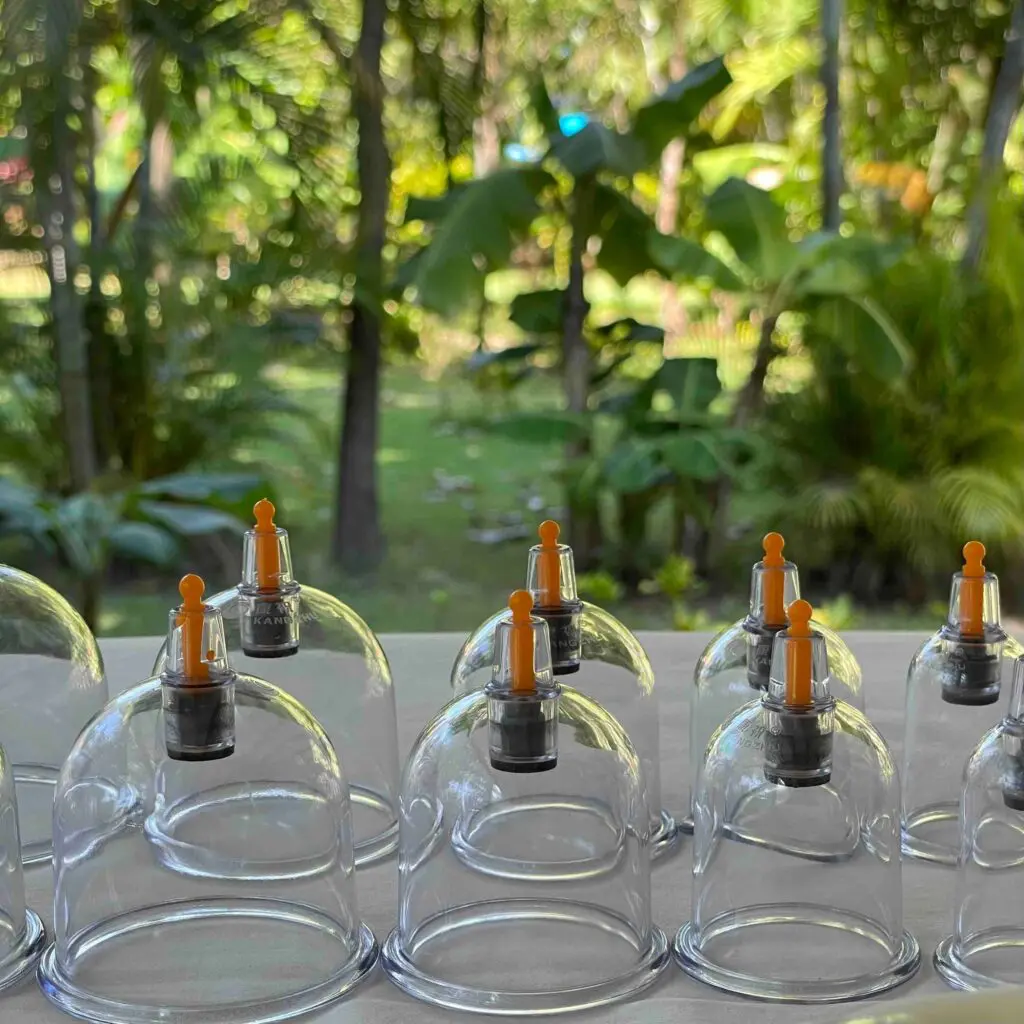 THE INSTRUCTOR:
Shannon Gilmartin
Shannon is the author of the book "The Guide to Modern Cupping Therapy – Your Step-by-Step Sources for Vacuum Therapy". She has been teaching cupping internationally since 2008.
She teaches this certification class in Costa Rica every January. She also teaches cupping classes in the US and abroad.
Her website is: ModernCuppingTherapy.com
Her book: The Guide to Modern Cupping Therapy. Your Step-by-Step Sources for Vacuum Therapy.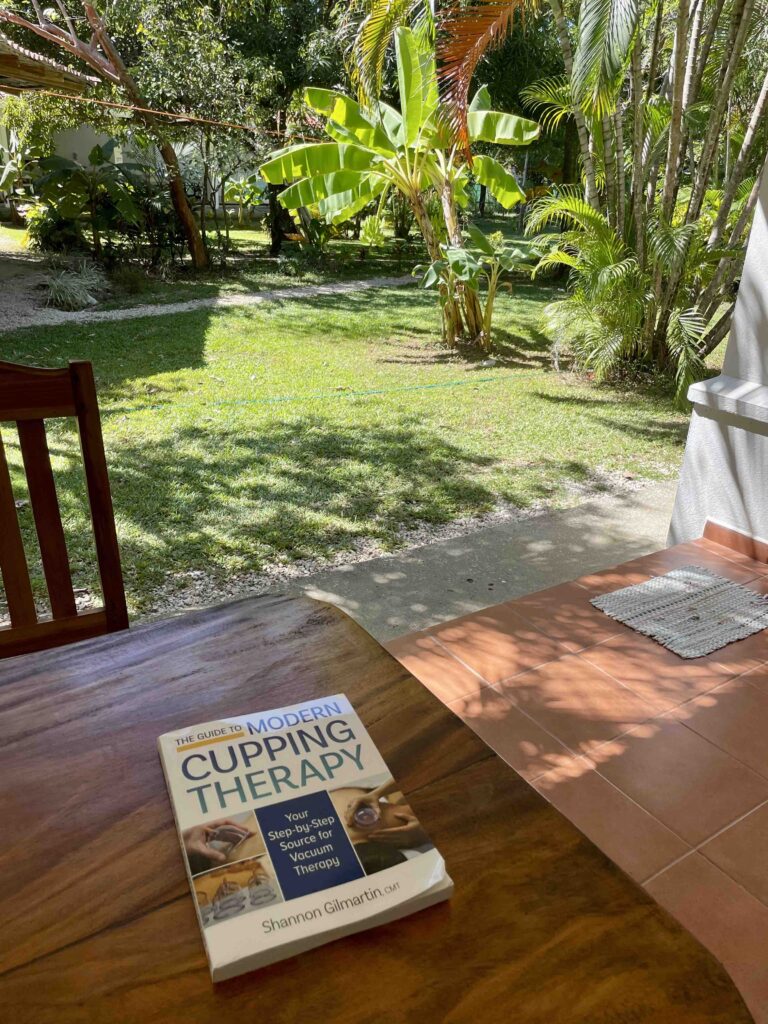 THE CLASS
The Modern Cupping Therapy workshop had 4 full days of lecture, demonstration, and hands-on practice.
We spent days one and two learning the fundamentals of Modern Cupping Theory. The third day we learned Therapeutic Cupping for Lymph Drainage and, the last day was Pathology and Scar Tissue. The mornings were lectures and demonstrations; the afternoons were hands-on practice.
One of the best things about the class was the instructor provided very detailed handouts that went great with the live session. The cupping class was comprehensive, with adequate time spent on contraindications and pathologies.
You must be a licensed bodywork professional to attend this course.
I have been taking CEU classes for the past 20 years. This class was one of the best. Shannon also offers advanced cupping classes.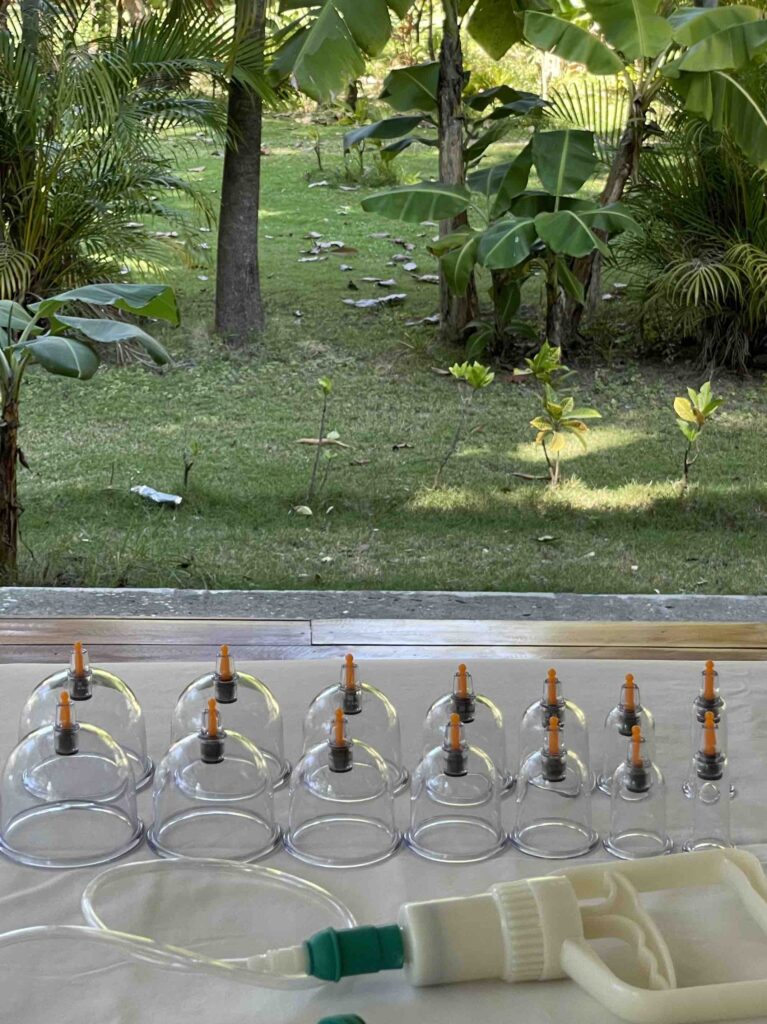 Travel tips and suggestions
Don't forget to pack:
Sunscreen
Mosquito repellent
Water bottle (the water is safe to drink at the school)
USD in small bills
MONEY
The currency in Costa Rica is colones; however, USD's are widely accepted – brings lots of 1's and 5's. There is a bank right in front of the school. You can withdraw money, either Colones or USD's.
Tip: My go-to debit card for travel is Charles Schwaab. Charles Schwaab reimburses you for the foreign transaction fees the local bank charges.
COSTS
Besides the cost of tuition (which includes accommodations), the costs to you will be eating, drinking, and activities such as surfing, snorkeling, etc.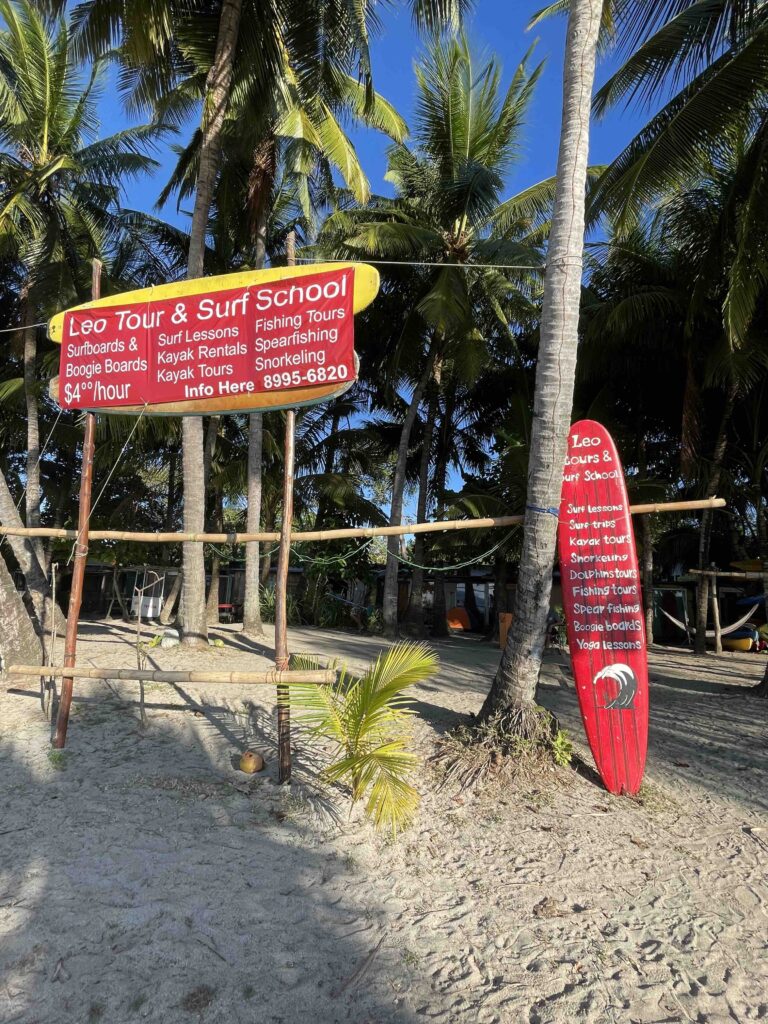 WHAT ABOUT SAFETY?
I traveled solo to Costa Rica.
In my opinion, Costa Rica is ideal for first-timers. The country is safe and easy to navigate. English is widely spoken, but knowing a little Spanish goes a long way.
A few of the students traveled in pairs; however, most students came by themselves.
The campus is gated. You are given a set of keys. These keys will get you in and out of campus. You are also given a key for your bungalow and, if in shared accommodations, a key to your bedroom.
The school also has security guards walking around the campus at night.
PURA VIDA
You will hear this phrase a lot in Costa Rica. Pura Vida means "pure life". It's how many people in Costa Rica say hello, goodbye, make you feel welcome, or answer the question, "how are you?".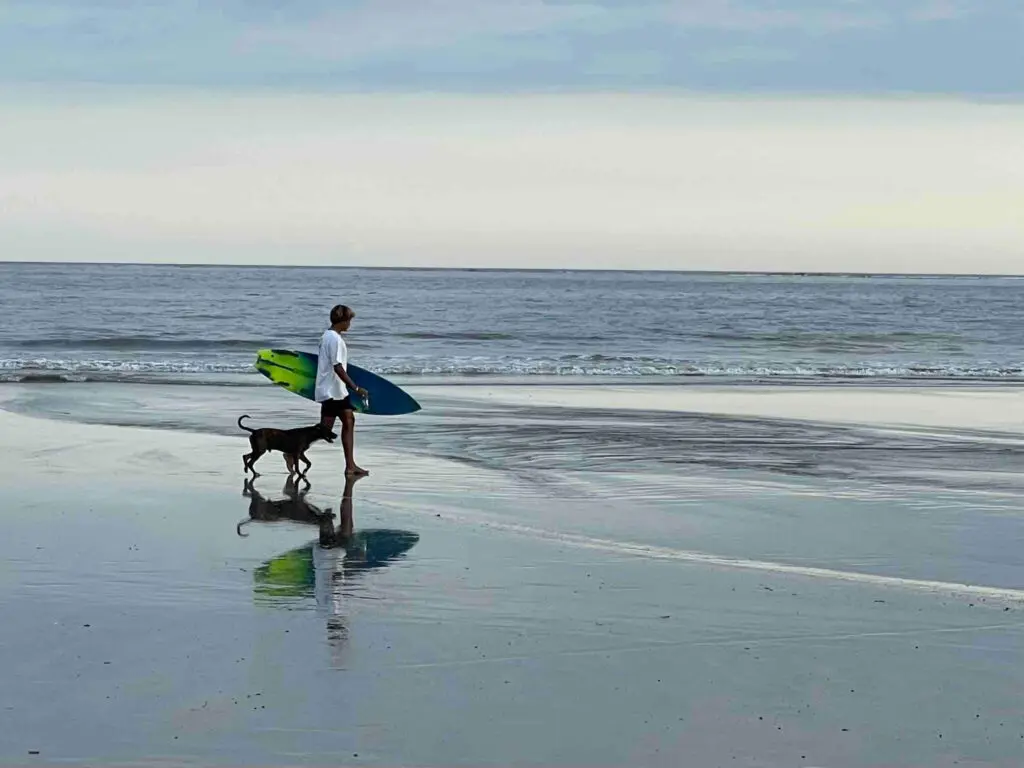 My Costa Rica itinerary (including before and after the class)
While planning this trip, I decided to add a few days before and after the class. I wanted to explore the volcanic mud baths, hot springs, and the beauty that Costa Rica offers.
AIRPORT:
I flew into Liberia airport (LIR). Getting through customs took me 5 minutes, but for other students, it took up to 2-hours.
HOTEL:
I stayed 2 nights at the Hilton near the airport. I chose the Hilton because I had points, my flight was arriving late at night, and the hotel had free transportation. I would recommend the Hilton.
THE DAYS BEFORE CLASS
I visited Rincon Viejo National Park (about 45 minutes from the hotel). I had a great time exploring the volcanic mud baths and hot springs.
A classmate and her fun-loving mother stayed at the Hilton at the end of their trip. They booked a tour from the hotel. On their tour, they enjoyed zip-lining, tubing, and horseback riding. The tour also took them to the mud volcano and hot springs. You will need to book this tour 1-day in advance. They had a fabulous time and said they would recommend the tour.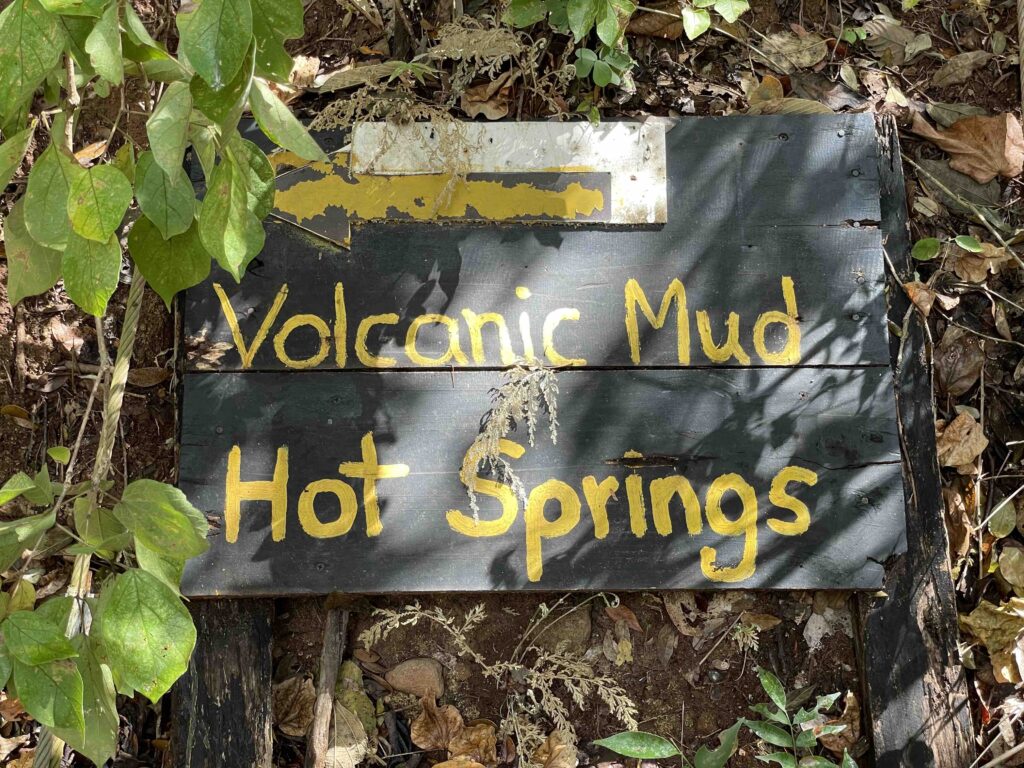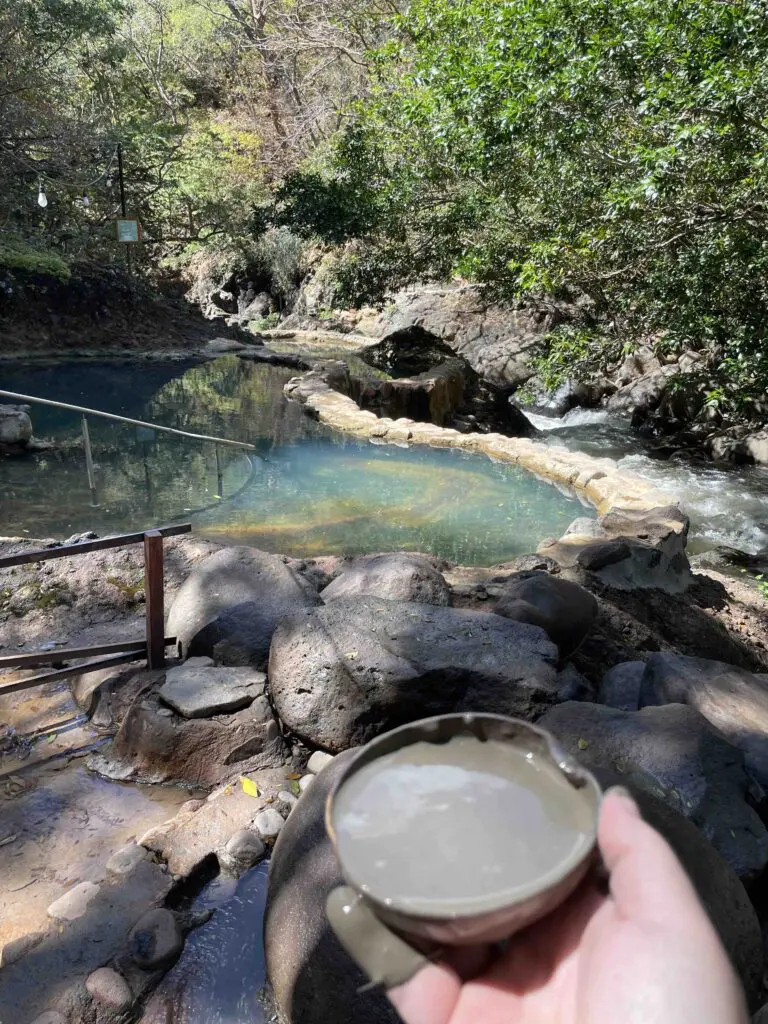 ARRIVAL IN Playa Samara
The school shuttle picked me up in the morning (along with 5 other students). We drove a little over 2 hours to the school.
Check-in. Upon arrival at the school, we met Jan. Jan escorted us to our rooms and gave us our bungalow keys. She pointed out the classroom, the pool, the direction to the beach, and then left.
After the quick check-in, the rest of the day was a free day to explore Playa Samara. I explored the town, bought a few groceries, and then had drinks with a new LMT friend.
The class schedule for the week:
Arrival Day – campus check-in and free time
Class Day 1. 9 am – 5 pm
Class Day 2 9 am – 5 pm
OFF Day/Free day – you're on your own. A group of us took surf lessons.
Class Day 3 9 am – 5 pm
Class Day 4. 9 am – 5 pm
Departure Day – Most of the students took shuttles back to the airport. I headed to my next destination.
My next destination: Punta Islita – a time for relaxation and decompression.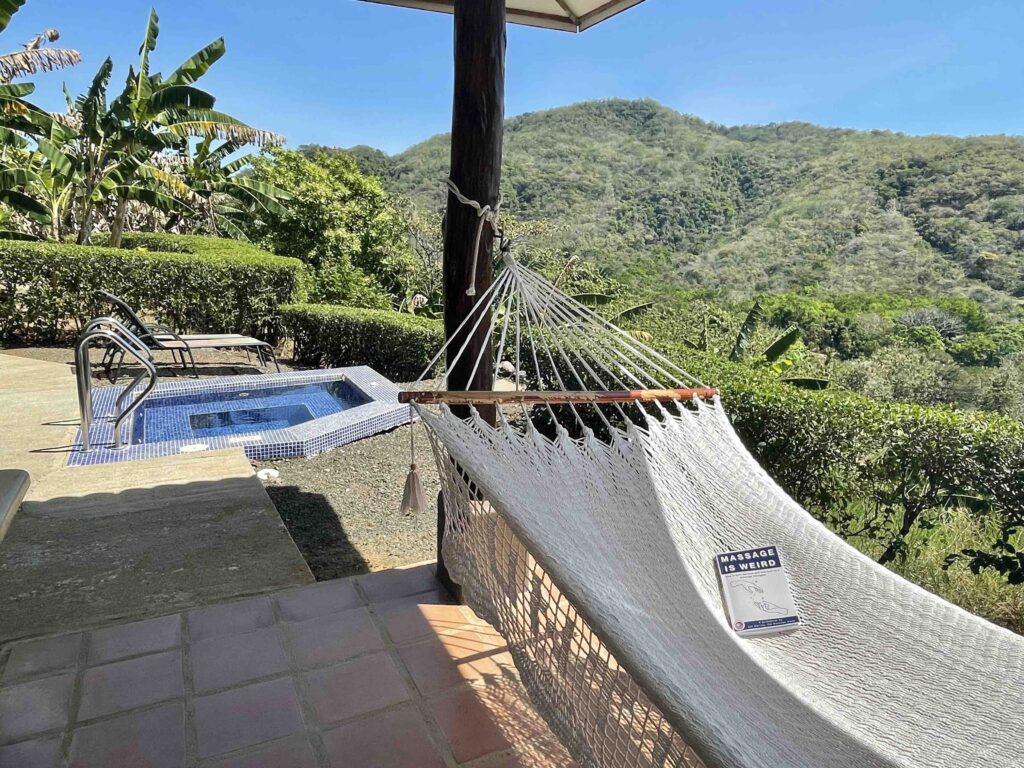 Summary of my experience at CRSMT
Attending CRSMT was a wonderful international massage CEU experience.
I highly recommend the Modern Cupping Course with Shannon and the Costa Rica School of Massage Therapy.
I am thinking about returning for another continuing education course later this year or next.
You can request more information about the school by clicking here.
Pura Vida!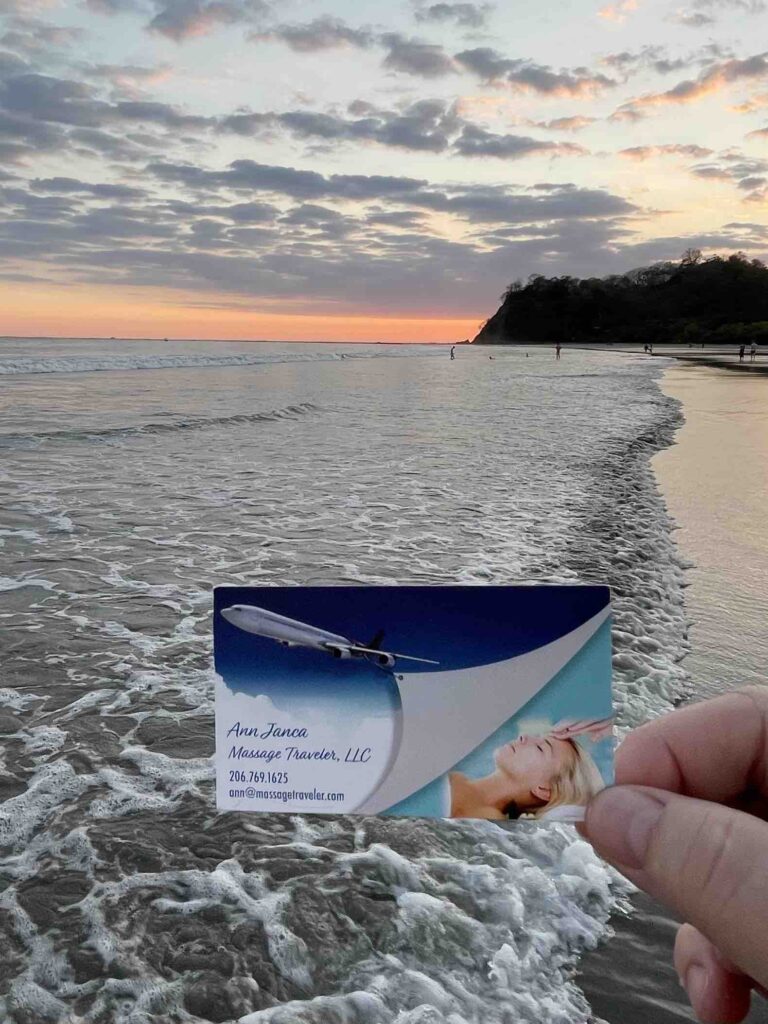 Follow me: