Massage Traveler's Guide to Planning a Successful Chair Massage Event at your Office or Workplace
Let me guess…
You've been tasked with finding a massage therapist to come to your office?
And, you're not sure where to begin, how to go about it, or even know the right questions to ask.
Well, you've come to the right place.
In this post, I will guide you through how to plan and organize a chair massage event. I will offer valuable tips and advice as well as answer many of the questions you may have. Also, I will give you examples of what other companies have done and will provide a list of what mistakes to avoid.
You'll love this post!
---
Here's what I'll cover:
How to Plan a Chair Massage Event for your Office

Planning
Best Ways to Set Up Your Event
The Day of the Event
FAQ
Mistakes to Avoid
Examples of What Other Companies Have Done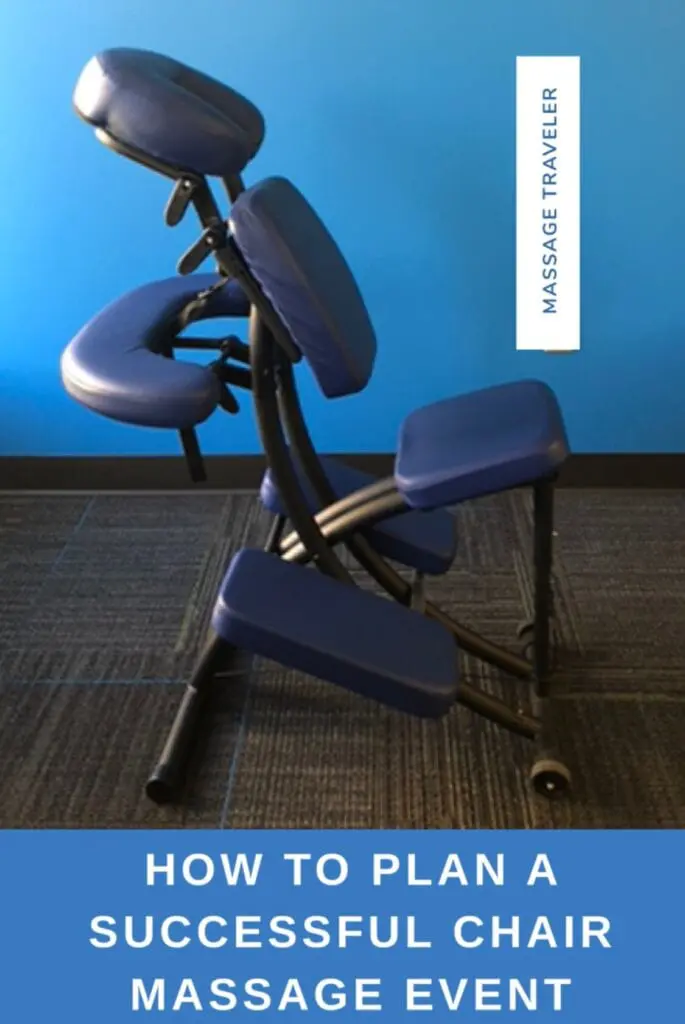 Quickly. Who am I?
I am the hands behind Massage Traveler.
As an owner of a mobile massage business, I have contracted with hundreds of companies over the past 19+ years to provide chair massages at their offices and workplaces.
I am a licensed massage therapist. I have performed hundreds of corporate chair massages and have seen firsthand the mistakes some companies make.
I know the mobile massage business inside out.
---
How to Set Up a Successful Chair Massage Event
Planning
The first step to ensure your event will run smoothly is proper planning.
Essential questions YOU will need to be able to answer:
How many people will be receiving a chair massage?
How long do you want the massage sessions to be? (10, 15, 20, or 30-minutes)
What is your budget?
What is the date and times you prefer?
Where will the massages take place? Conference room, empty office?
Once you have the answers to these questions, most of the hard work is done. Now it will be much easier to determine how much time (total hours) will be needed, the number of massage therapists required, and the total cost to your company.
The right mobile massage company will be able to help you figure out these things.
Finding the right mobile massage company
When searching for a reputable mobile massage company, ask questions. You will want to hire a company that is well established, knowledgeable, and flexible. You will want to ensure that the company employs massage therapists that are professionally trained, licensed, and insured. Additionally, you will want to work with a company with excellent customer service that takes the time to thoroughly answer all your questions and guides you through the process.
---
How to Organize

Chair Massages at Work

How you set up the massage event will depend on the size of your company, your specific company needs, and your preferences as the coordinator.

Chair massage events are organized in 2 ways.
1. Sign-up sheets
2. First come, first serve
Sign-Up Sheets
Can either be a paper sign-up sheet or online sign-up sheet
Work well for both small and large events
Employees can either sign-up before the event or on the day of
PRO: employees know when their appointment is – there is no wasted time waiting around.
CON: If an employee gets stuck on a phone call or in a meeting, they may end up missing their appointment.
TIP: Google Sheets works well for online sign-ups
First Come, First Serve
Works well for larger events such as health fairs, holiday parties, or company picnics
Employees show up whenever they like and wait in line to receive massages.
PRO – There are no appointment times – so employees do not need to worry about missing their appointment.
CON – At times, the line for massages can get long. Solution: the massage therapists can adjust the length of the massages depending on demand.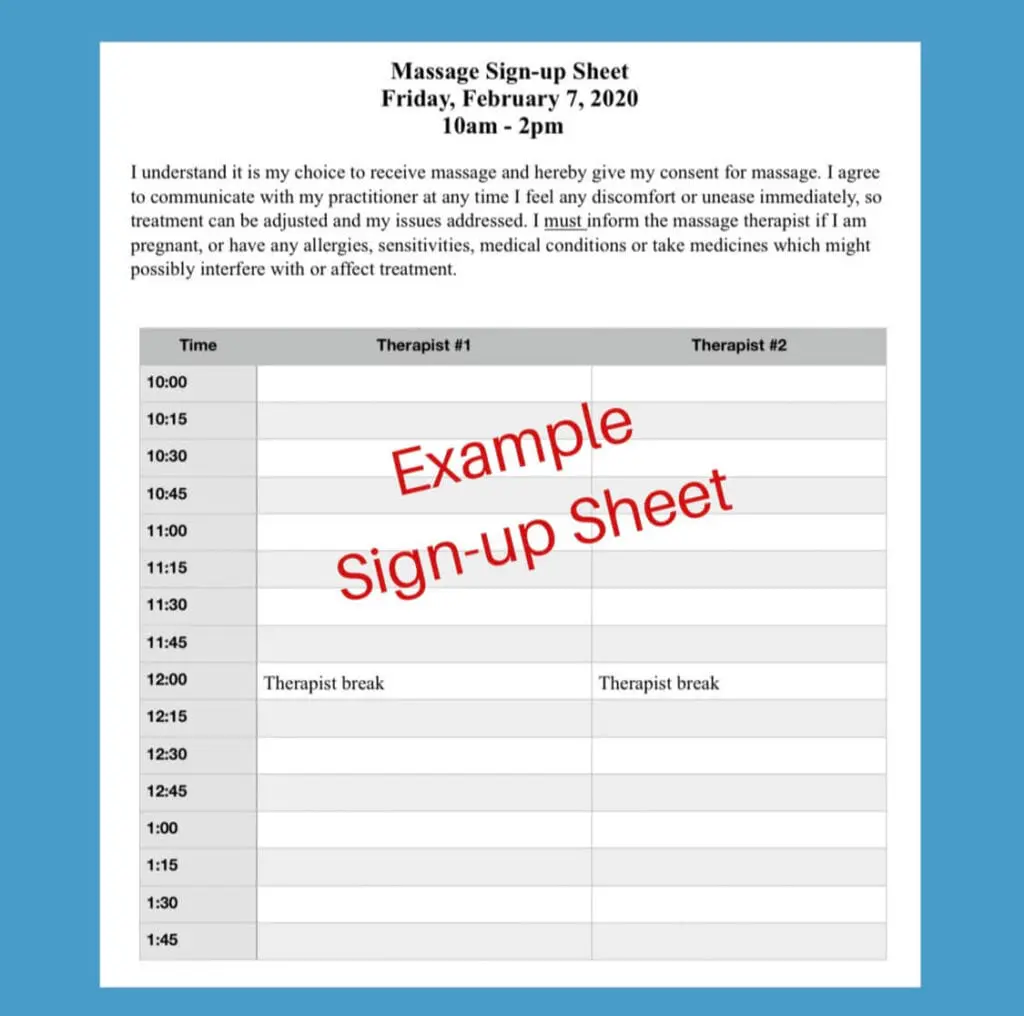 The Day of the Event
The day has arrived! Your employee's eyes widen and, they line up when chair massage makes an appearance.
The massage therapist(s) arrive early to set up for the event.
You will have designated someone in your office to be the contact person. The contact person will be the person whom the massage therapist(s) will report to.
TIP: having a backup contact person is a good idea.
What will the contact person need to do?
The contact person will:
greet the therapist(s) and accompany her/him to the massage space.
print the sign-up sheet and give a copy to the therapist(s).
print and post a door sign outside the massage room. (if applicable)
give the massage therapist(s) any additional information such as where the restrooms are, where the break room is, and how to reach her/him if they should need anything.
The massage therapist(s) will need a few minutes (5-10-min) to set up.
TIP: If this is an event where you are providing snacks and drinks for your employees, you will have preferably set this up before the massages begin.
TIP: It is a good idea to send an email to employees to remind them it's Massage Day.
Let the massages begin!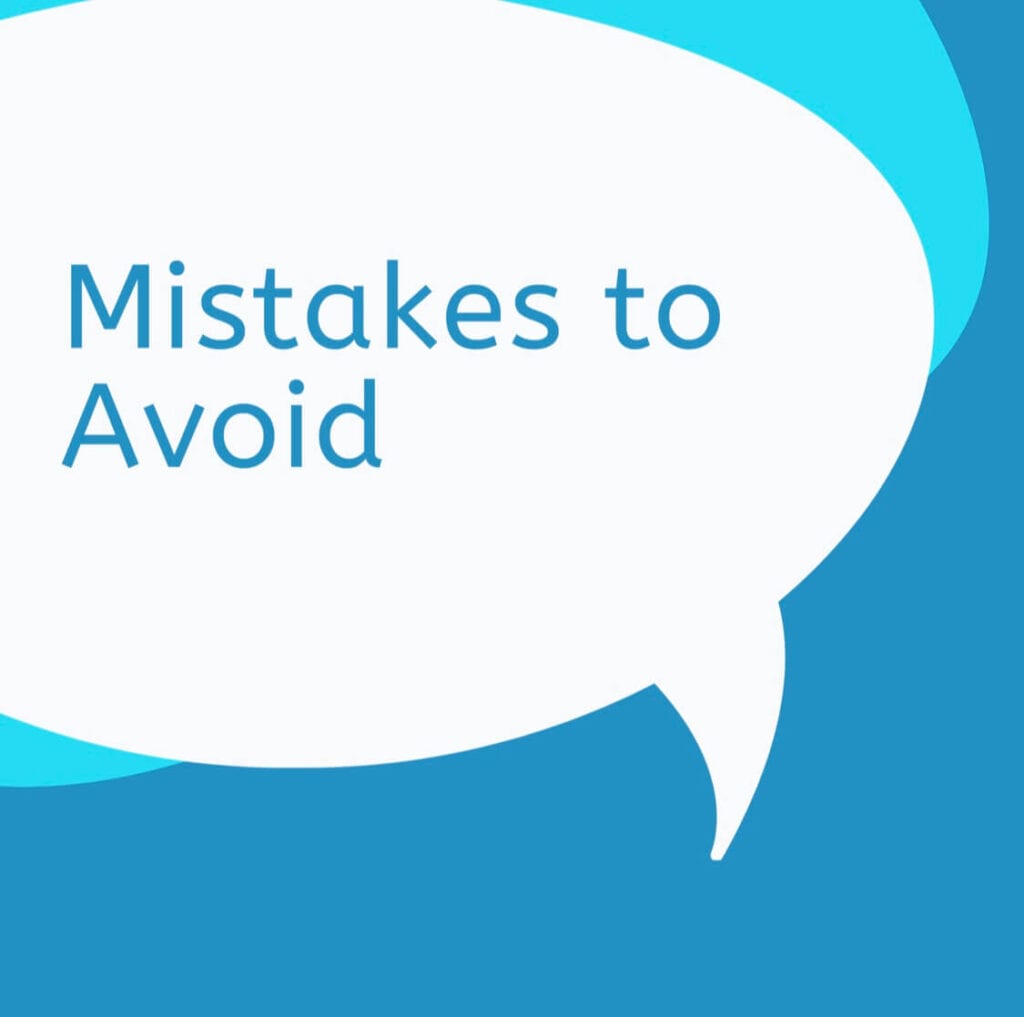 Mistakes to Avoid
Proper planning, working with a reputable company, and following my advice will help you avoid the mistakes that I have seen other companies make.
1. Underestimating or overestimating the number of people receiving a massage (booking too much time or too little time for your massage event)
Estimating the number of people who will be receiving a massage is a difficult task for many organizers. It can be challenging if you work for a large company – not only is it tough to estimate the number of people who will want a massage, it's also tough to know how many people will be in the office that day.
Even my regular clients who have monthly or quarterly massage appointments still struggle with this problem. Their solution is to overestimate the number of people and, then, if there are open slots, have some employees go twice or lengthen the time of each chair massage.
My advice: If your budget allows, I suggest overestimating the hours needed. You can always have your employees go for seconds. If you find that you have underestimated the number of hours required, you can shorten the massages.
2. Not spreading the word
Encourage involvement. Be sure your employees know about the event, how to sign up, and the location where the massages will be.
My advice – promote your event. Email is usually the best way to let employees know about your event. You might also want to post an announcement flyer in your break room, elevator, or common area. You may also wish to send an email reminder out the day before your event.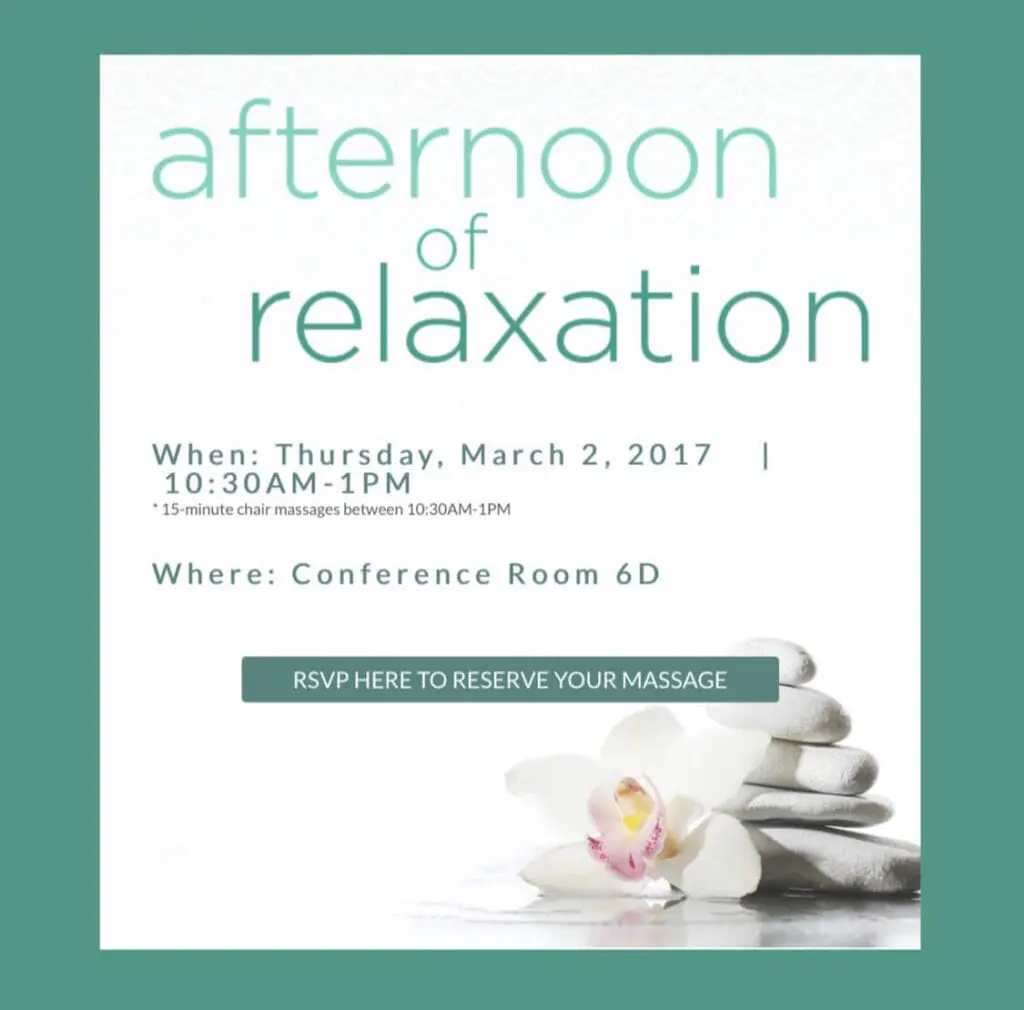 3. Forgetting to:
When determining the total time needed for your event, don't forget to factor in break and lunchtimes for the massage therapists.
4. Not scheduling a buffer time when reserving a conference room.
It's a good idea to reserve the conference room 30-minutes before and after the start and end of the event. Massage therapists will need ample time to set-up and break down.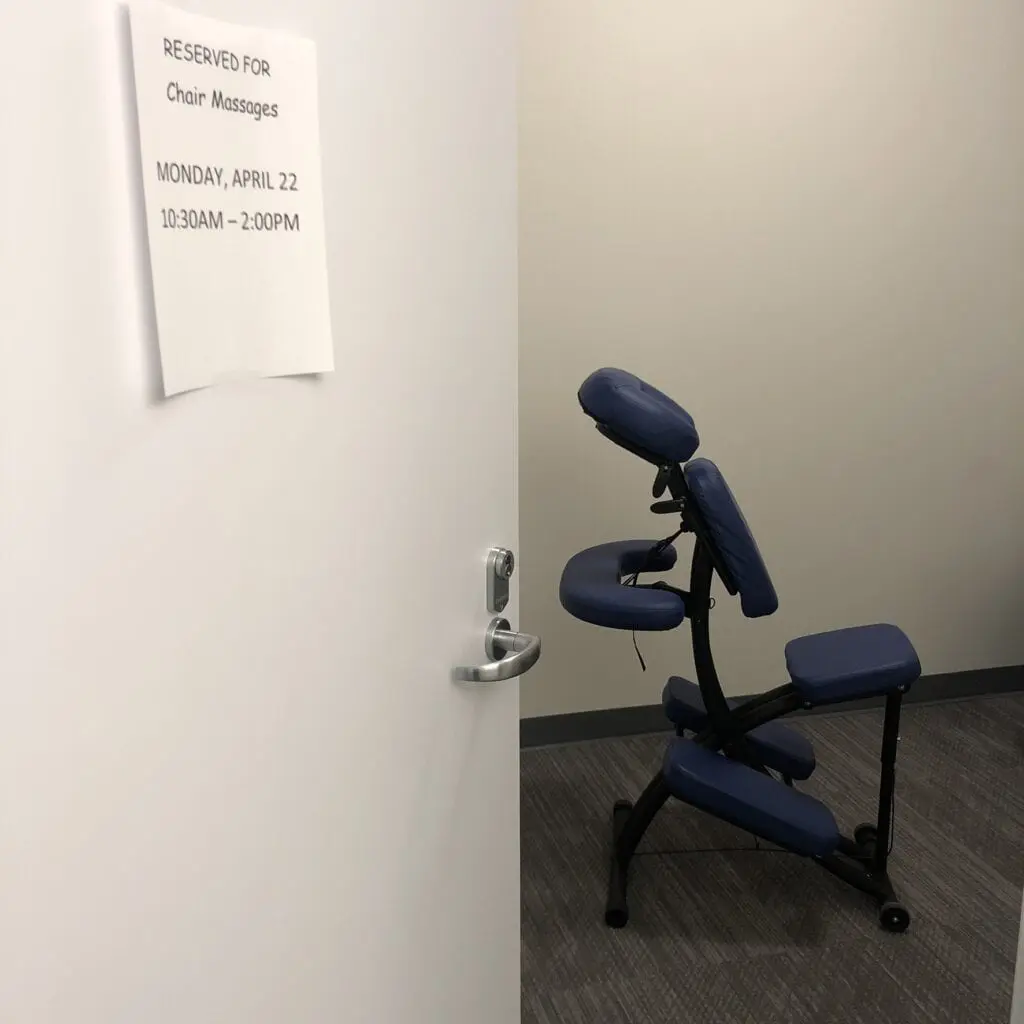 5. Hiring the wrong mobile massage company
My advice- hire locally. A local massage company knows their massage therapists well and can handpick the right massage therapist for your event. Unfortunately, many of the large national app-based businesses assign therapists based on availability and not for the specific skills and expertise needed for your event. This can be hit or miss!
Thanks for supporting a local business!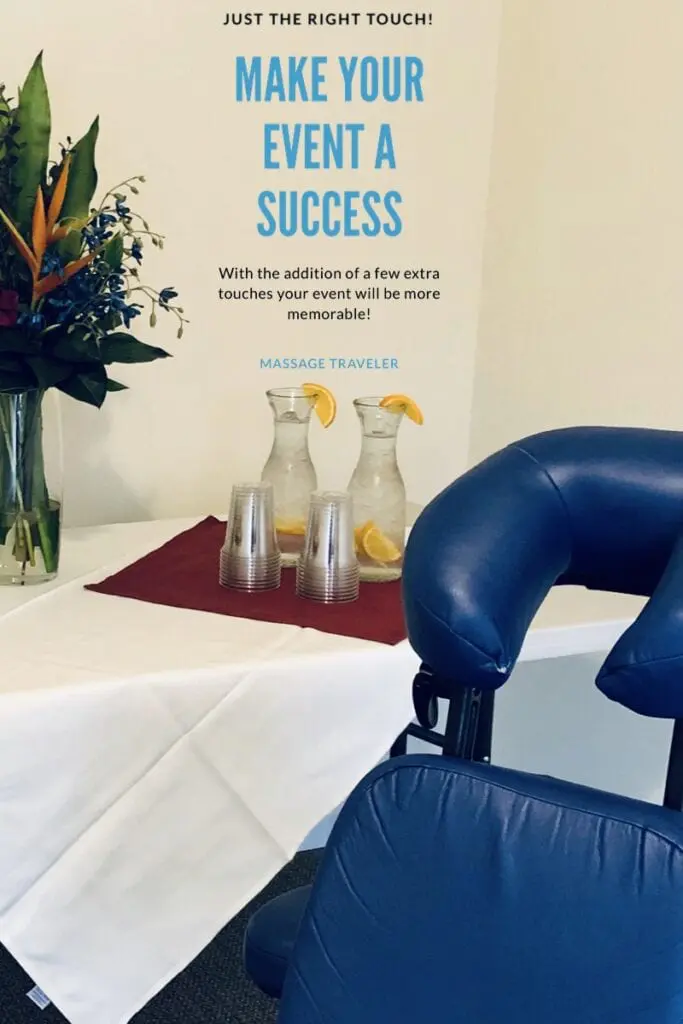 What Other Companies Have Done
80% of my clients set up a simple and basic chair massage event. A simple set-up is all you need. Space is reserved, massage therapists are brought in, and chair massage is enjoyed by all.
The other 20% of my clients have a more elaborate set-up. Many times, chair massage is part of a larger wellness event or employee gathering – for example, a company anniversary, holiday party, or health fair. Sometimes these gatherings can be weeklong events.
For these events, space may be decorated, food and drinks are set out, and sometimes handouts and giveaways are given to the participants.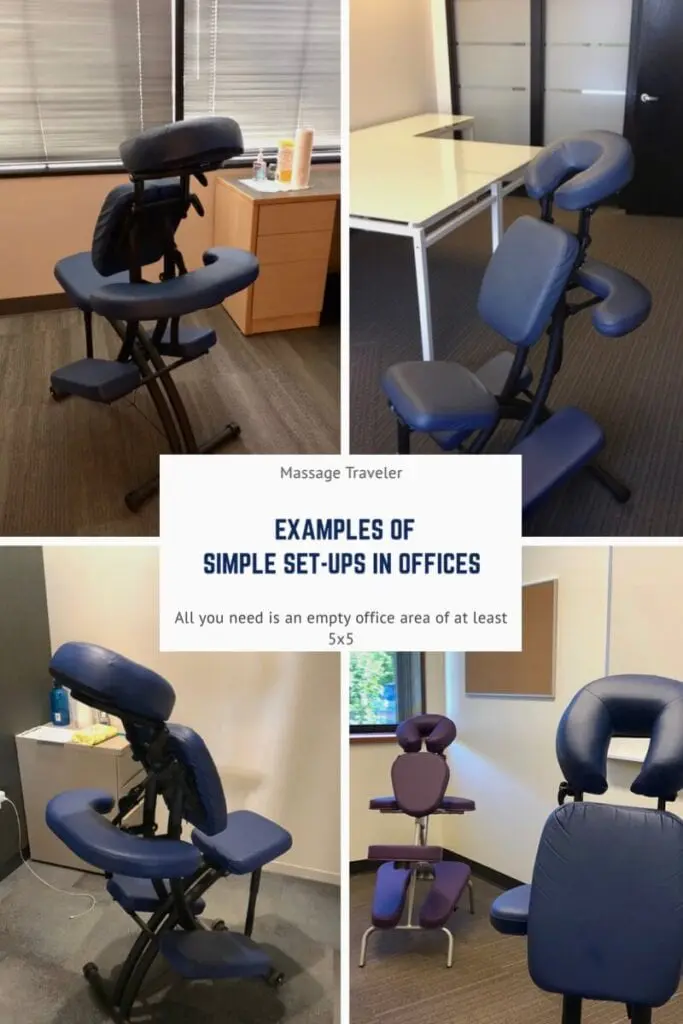 6 Ideas to make your event more memorable:
1. My favorite extra touch is when clients get creative and name their massage space.
A few examples include:
Relaxation Station
Zen Zone
Chill Room
Shhh Room
And my favorite, the Escape Room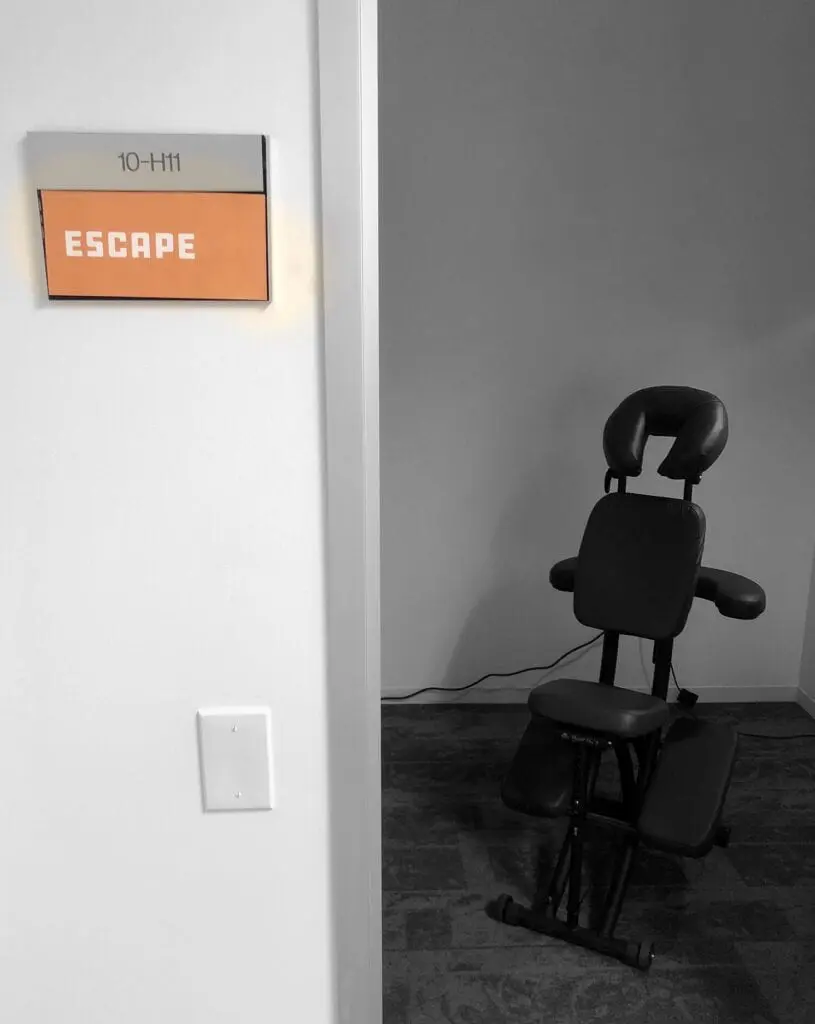 2. Clients might use lingo such as:
Wellness Wednesdays
Wellness in the Workplace
Massage Mondays
3. During wellness events, many companies provide handouts on self-care, stretching, and breathing exercises to their employees.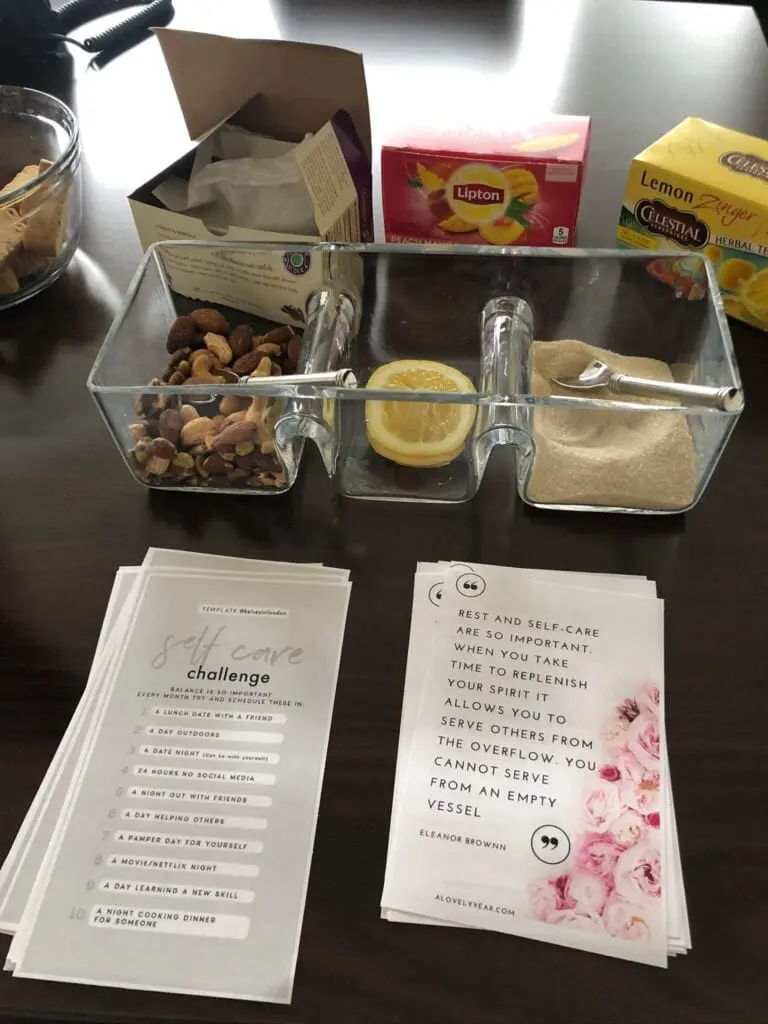 4. For spa and relaxation type events, some companies provide giveaway items such as lip balms, facial masks, stress-relief balls, mints, hand lotion, and water bottles.
5. Many clients will provide water and snacks for their employees. Sometimes this is set up in the massage space.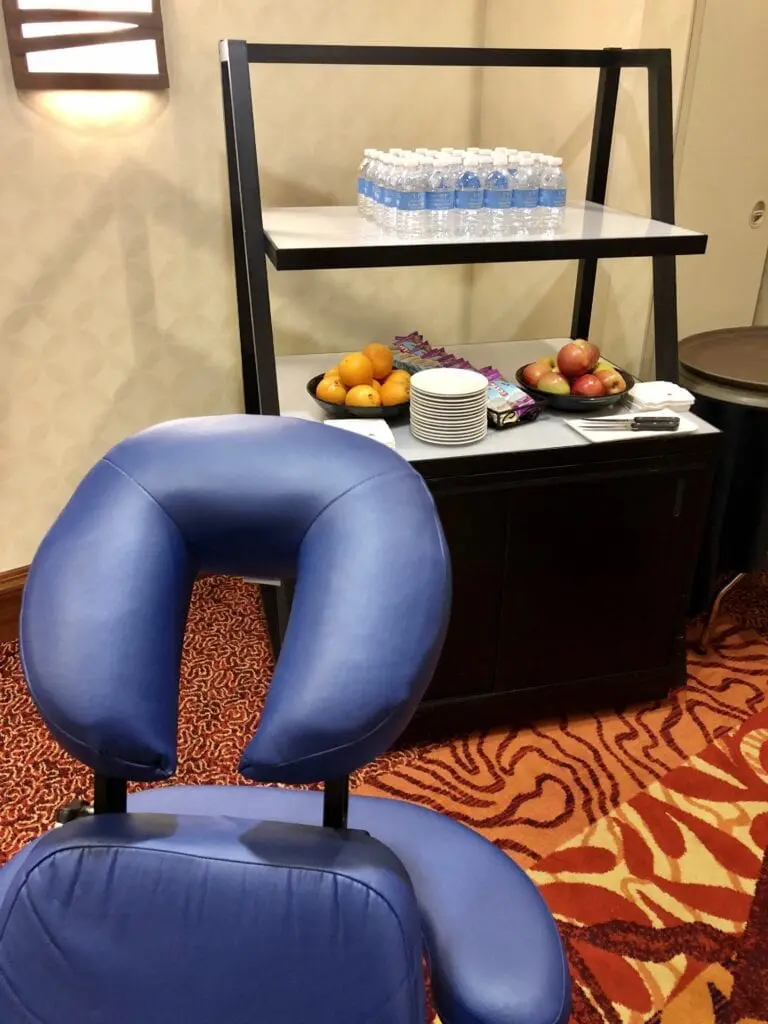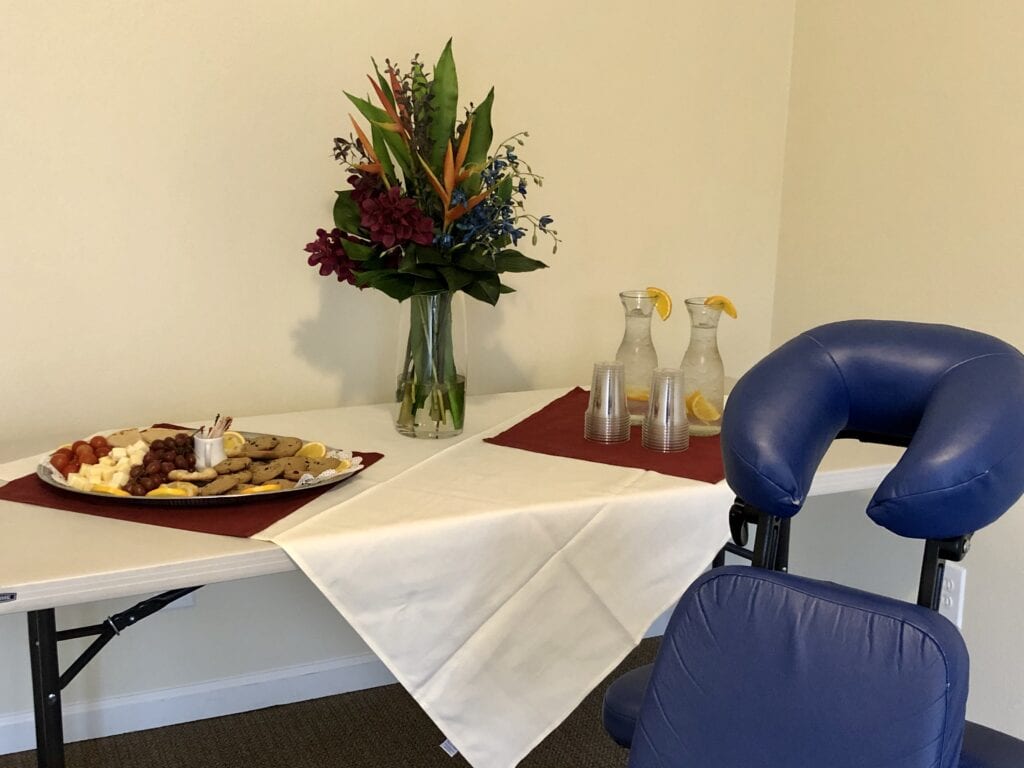 TIP: You may want to avoid providing food that is "noisy" when eaten.
Zen interrupted
"Your loud crunching is interruptin' my Zen."
I once worked an employee appreciation event where a couple of employees arrived together for their chair massages. While one employee was receiving her massage, the other waited patiently. After a few minutes, the one who was waiting decides to walk over to the snack table and help himself to a bag of chips. He sits down and begins to mindlessly and loudly crunch away while scrolling on his cell phone.
The employee receiving the massage picks up her head and says jokingly to her co-worker (and good friend). John, your loud crunching is interruptin' my Zen!
We all had a good laugh. Afterwards, I went back to massaging, she went back to relaxing, and he, well, went back to the snack table, smiled, and picked out a "quiet" cookie!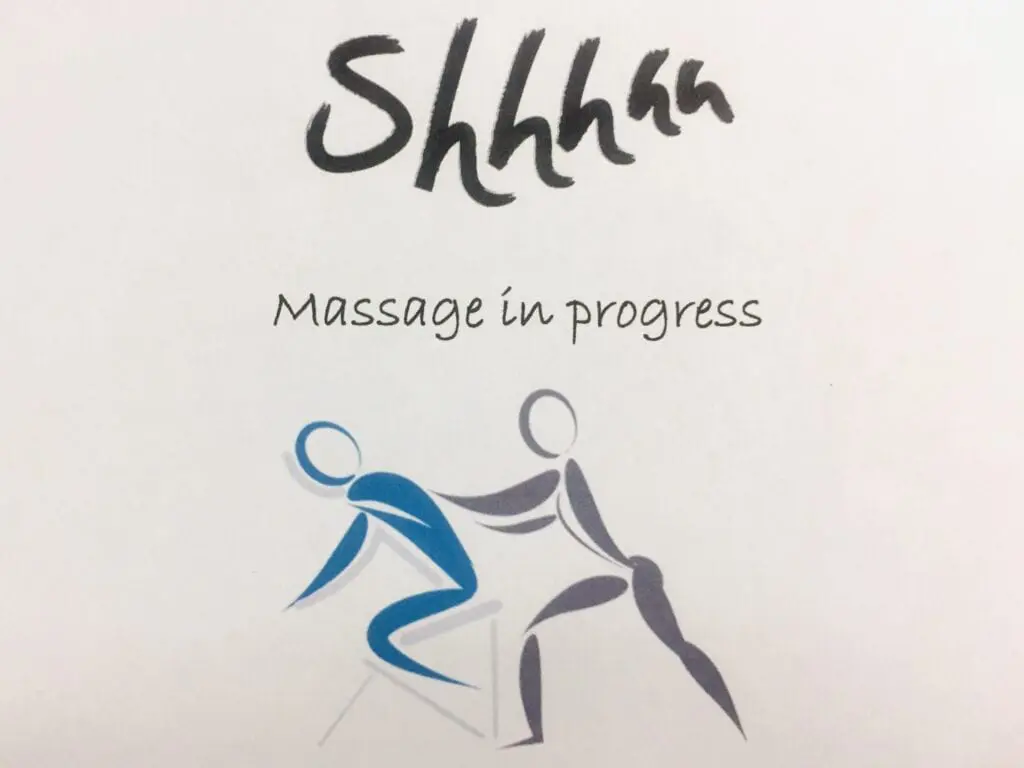 6. Some clients like to book their chair massages on specific days such as:
National Relaxation Day (August 15th)
Employee Appreciation Day (1st Friday in March)
Administrative Assistants Day (April)
World Health Day (April)
Stress Awareness Month (April)
National Massage Day (October)
International Coffee Day (October)
Earth Day (April)
National Clean Out Your Computer Day (February)
National Clean Out Your Desk Day (January)
And my favorite, Chocolate Chip Day (May 15th)
TIP: You can find a list of all of the national days online. I'm sure you'll find a day that matches your event and company culture.
---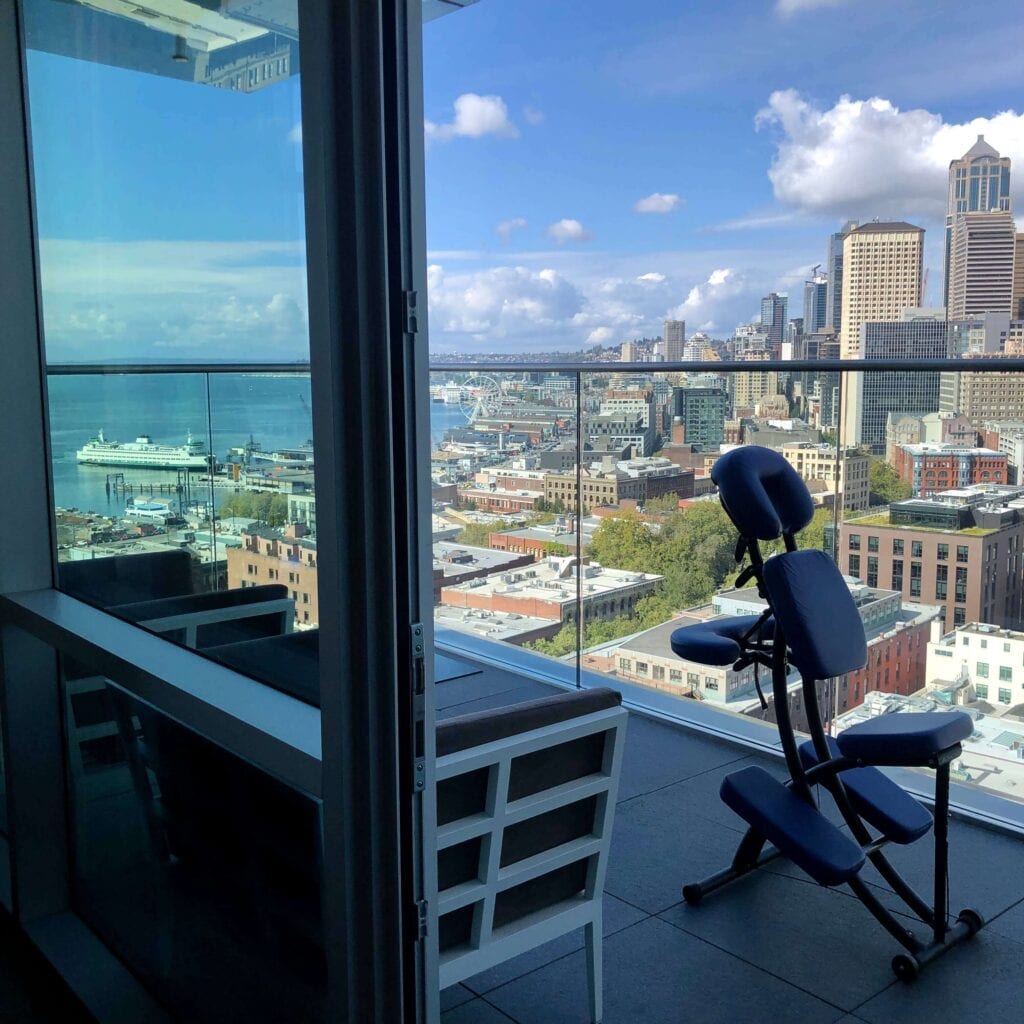 If possible, why not set up outdoors?
Some of my clients set up their events in outdoor spaces.
---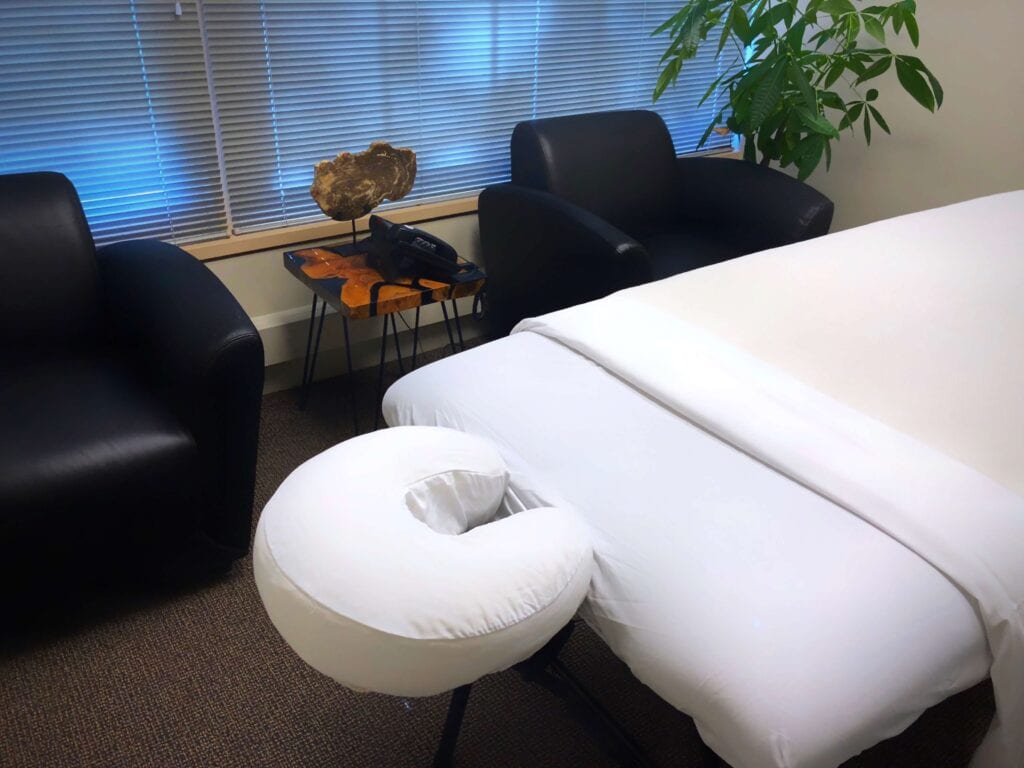 Or, consider table massages.
Table massages can be an option if you have a small group.
30 and 60-minute table massages can be given in an office setting. And, these massages can be received while clothed.
---
The Zen Zone
Check out this relaxing massage space!
One of my clients created this room for their massage day.
I love it!
(Music is from the U-tube station, Sleep Easy Relax)
Frequently Asked Questions
1. How long should the massages be?
The length of a chair massage is up to you. Typically, chair massage sessions are booked for 15 or 20-minutes per person, so 3-4 people are seen per hour. (10 and 30-minute chair massage sessions can also be accommodated)
2. Where is the best place for the chair massages to take place?
Chair massage can take place anywhere with space of at least 5×5. Most clients choose a quiet and private area; however, the massages can also take place out in an open area.
Typical office spaces for chair massages include:
Empty offices
Conference rooms
Break rooms
Quiet corners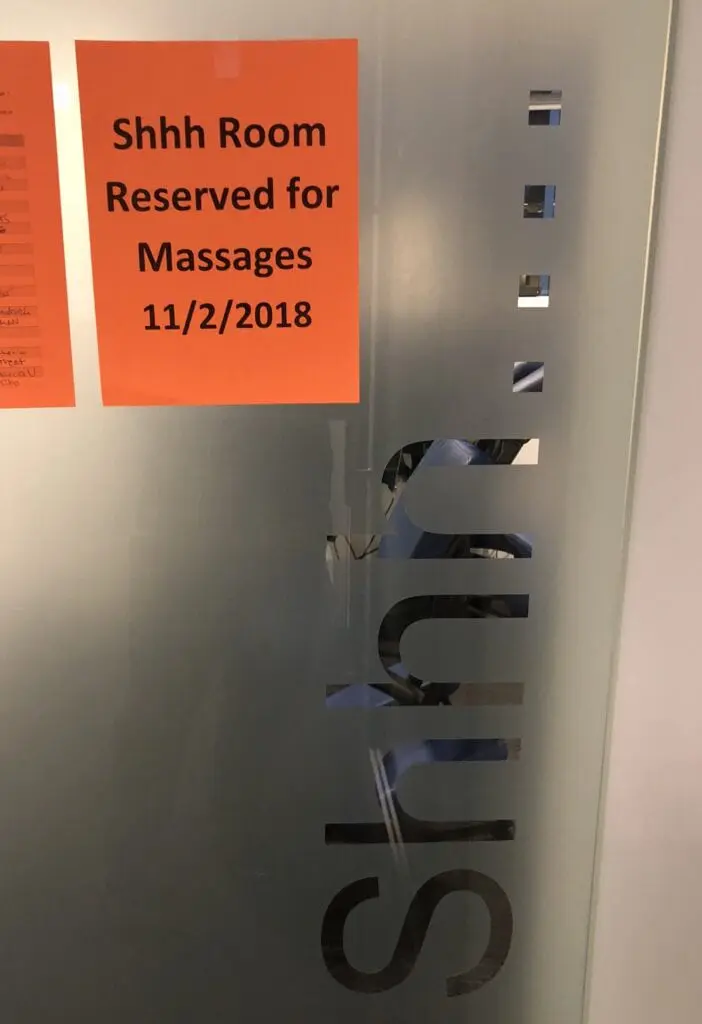 3. What do I (the client) need to provide?
Space of at least 5×5
A contact person for the day of the event
4. What do the therapists provide?
Massage therapists provide everything needed for the massage, including a massage chair and all cleaning and sanitizing supplies.
5. Additional things you will want to do once the event is confirmed:
You will want to provide the massage company with the following information:
Parking information for the massage therapists
Any specific information the massage therapists might need on the day of the event. For example, do they need to check in with security first? Do they need to meet you in the lobby or go straight to your floor?
The name and phone number of the contact person for the day of the event (and, perhaps having a backup person)
6. How many therapists do I need? See columns below
7. How many hours do I need? See columns below
Let's Talk Numbers
For a small event:
You have a small team and, you know exactly how many people want massages – 12 people.
This one is easy.
For 15-minute massages, book 3 hours of massage time
For 20-minute massages, book 4 hours of massage time
You will need one massage therapist.
You will also need to add in time for the breaks and lunches for the massage therapist.
For a large event:
Let's say you have 60 employees in your office.
And, you have NO CLUE how many people will want massages (or even be in the office that day).
There are a couple of ways to go about this:
1. If your budget allows, plan for everyone (all 60 employees) to get a massage. (If there are open spots, you can always have people sign up twice)
For 15-minute massage sessions, you will need 15 hours of massage time.
My advice – hire three massage therapists, 5 hours each.
2. Or, estimate the number of employees who will be receiving a massage – say, 40.
For 15-minute sessions, you will need 10 hours of massage time.
My advice – hire two massage therapists, 5 hours each.
You will also need to add in time for the breaks and lunches for the massage therapists.
8. Why bring in a chair massage therapist?
Help motivate and retain your best employees
Make your employees feel valued and appreciated
Re-energize staff
Increase office morale and office productivity
---
Takeaway
Chair massages are a great way to reward your employees. With proper planning and choosing the right mobile massage company, your event will be a huge success.
Employees love massage and, they will love you for bringing this healthy benefit into their workplace.
Your employees will be relaxed, revitalized, and ready to take on the world!
Bonus tip:
Be sure to take the time to enjoy a massage yourself!
---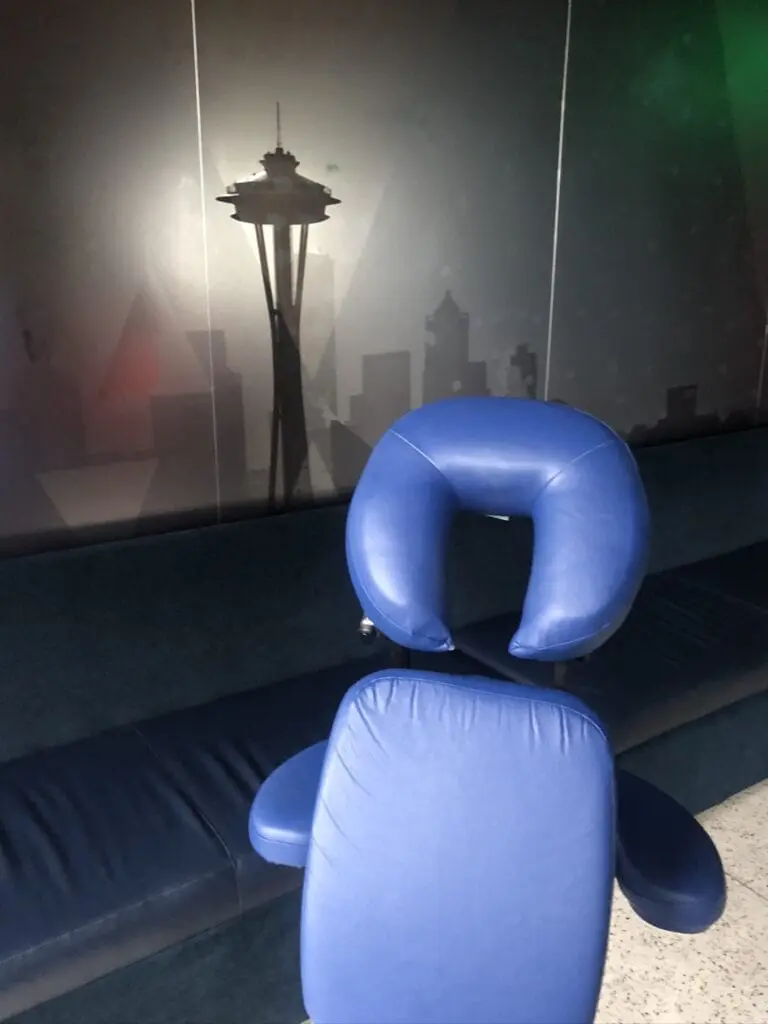 Invitation For Feedback
I welcome any feedback or questions you may have.
Please drop me a line in the comments below or contact me via email.
If you're in the Greater Seattle area and are wanting to book chair massages for your office, I would love to work with you. Please click here.
Copyright 2020 Massage Traveler™ LLC. All rights reserved.