Hi.
My name is Ann Janca, and I write this blog.
I am a self-described Massage Traveler™. I love massage, I love to travel, and combining these two passions has helped me create a "somewhat" balanced life of work, travel, adventure, and making people feel like a million dollars!
I live and work in Seattle, Washington 8 to 9 months of the year. The remaining 3 to 4 months, you can find me traveling around the world in search of unique massage and spa experiences, relaxing hot springs, beautiful hikes, and unforgettable adventures! I seek beauty in this world – and enjoy photographing it wherever I go.
My Journey
My journey as a massage traveler began in 2001, when I created the mobile massage company Massage Traveler™. I had been working for United Airlines and was trying to find a way to create a life with more flexibility and freedom. I loved working in the airline industry. I had instant travel companions, and the travel benefits were amazing. I was always hopping on a plane, traveling to some exotic place. However, I needed more flexibility – a lot more. I wanted freedom and the ability to be in control of my schedule and my life. I had to be my own boss. Up to this point, I had been building a life around my interests. Now I wanted to turn those interests and passions into a business.
In the beginning, after creating Massage Traveler™, I continued working part-time for United Airlines while also practicing massage part-time and trying to grow my business. I soon found that growing a massage practice is hard work and requires a lot of time, patience, and dedication. As my massage practice grew, I worked less and less for United. Finally, in 2005 I left United Airlines and have been on an epic ride ever since.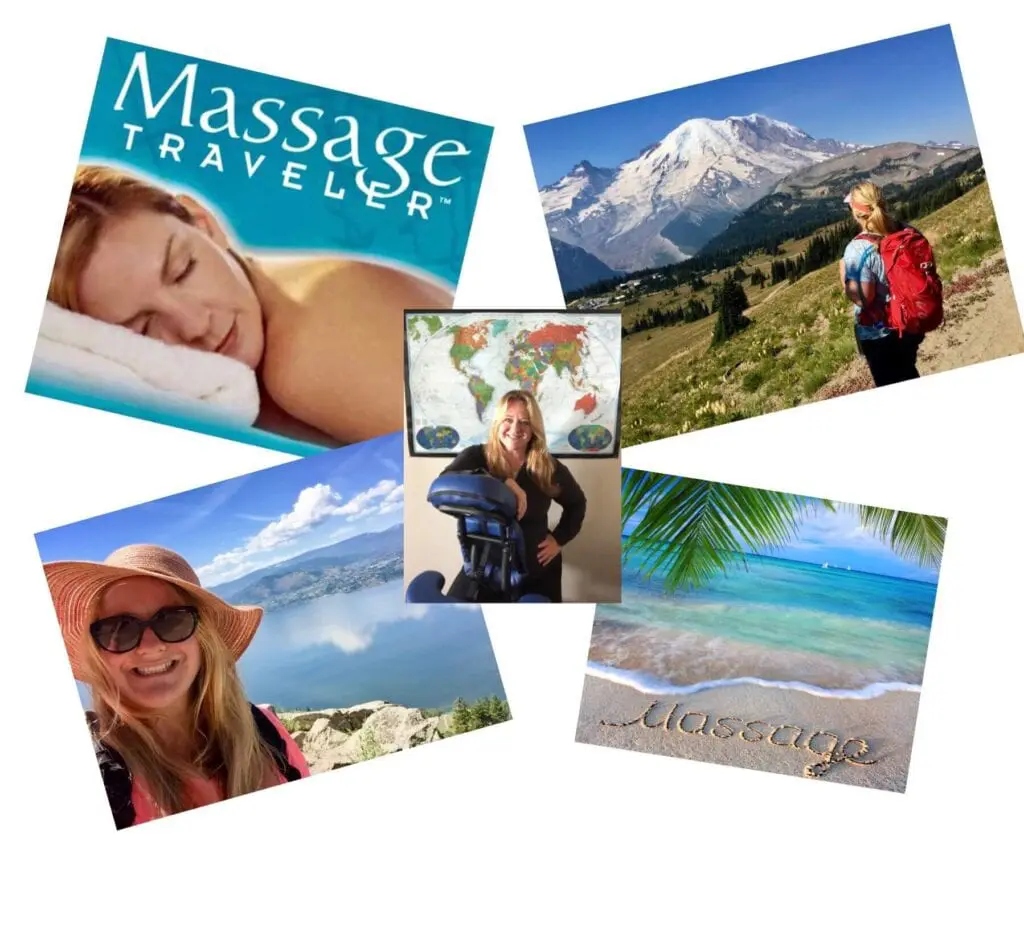 Mobile Massage
For mobile massage, I am based in Seattle, Washington. I travel throughout the Greater Seattle area, providing therapeutic massage to my clients at their offices and homes. Yes, I am the one walking around in the Seattle rain carting my massage table or chair from location to location. The variety of locations and venues to which I travel is one of the favorite parts of my work. I love where I work; every day I have a new "temporary office". I am a Massage Nomad.
Currently, I am working only in Washington State (except for the times when I am traveling with clients).
For the "non-hands-on" aspect of running my business, I am location-independent. Therefore, I can travel around the world with my computer in hand. I have incredible people who work with me year-round. This balance has served me well over the years. I am working toward the goal of 6/6 – living six months in Seattle and traveling for the remaining six months. Wish me luck! It will definitely be awhile before I can make that happen.
My Credentials and Experience
Massage and Spa Experience
Licensed Massage Therapist, Washington, 2001 (MA#00015393)
Licensed Esthetician, Aveda trained, Washington, 2007
Specialized International Massage and Spa Training

COSTA RICA, 2022

Costa Rica School of Massage Therapist (CRSMT)
Modern Cupping Therapy Certification

THAILAND, 2009 and 2012

TMC Thai Massage School of Chiang Mai
Thai Massage Certificate, 2009
Table Thai Massage Certificate, 2012

INDONESIA, 2008

JAMU Spa School, Bali
Balinese Massage and Natural Facials Certificates

Over 250 hours of Clinical and Sports Massage training, Seattle
Hundreds of hours of continuing education in multiple massage modalities over the past 18+ years
Travel Experience
World traveler – 80+ countries, 6 continents
12 years of experience working in the airline industry
Travel style: From backpacking trips to luxury travel
Other
B.S. Sociology, Human Resources Management, Texas A&M University
Corporate HR experience, Pepsi Cola
Hospital HR experience, MD Anderson Cancer Center, Houston, TX and Harborview Medical Center, Seattle WA
Lived and worked overseas, Micronesia
Worked in upscale hotel spas, Hyatt
My Massage Volunteer Experience Around the World
Volunteering my time doing massage has taken me to some amazing places around the world, from a pregnancy ward in a small hospital in Tanzania, Africa to a refugee center in the Middle East (Amman, Jordan). I have also volunteered my time doing massages for local Seattle organizations, such as the Seattle Cancer Care Alliance.
My goal is to volunteer my time doing massage on every continent of the world. Well, perhaps six of the seven (three down, three to go!).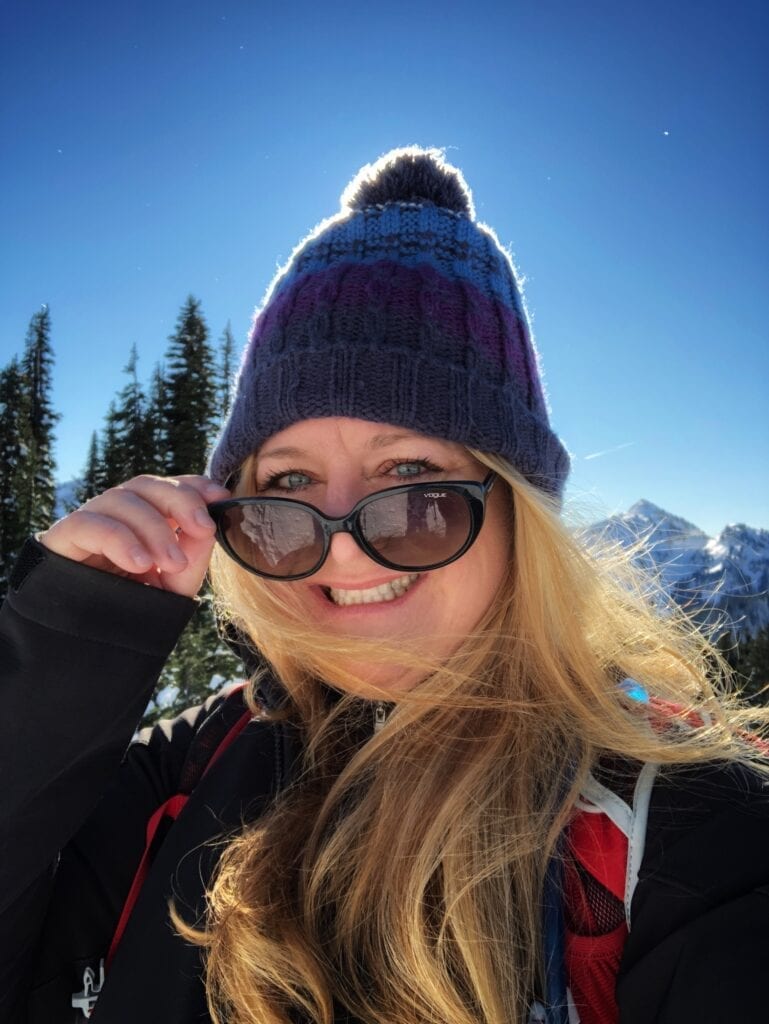 ---
Goals For Writing This Blog
I want to share WHY I love what I do.
I want to share my knowledge, experience, and love of travel and massage that could help others. I am very grateful for all the experiences and opportunities I have had over the years and I hope to share some insights and inspirations with you. I also hope to connect with like-minded people through the sharing of stories, advice, photographs, and ideas.
I also plan to share some daily happenings – basically, a glimpse into my life as a mobile massage therapist and world traveler. I'll include the good, the bad, and the unexpected!
And finally, my goal is to write a blog that I would want to read.
My Massage Clients
I love my clients! I have been seeing some clients for over 16 years. My clients range from 10-year-old cancer patients to geriatric clients, professional athletes to celebrities, families to stressed-out executives, and the VIP movers and shakers of Seattle.
On the chair massage side, my clients range from small companies to Fortune 100 companies. I do travel with clients as well, only occasionally, as needed.
---
Work With Me
I am available for consulting, traveling with clients (short-term and RTW travel gigs), mentoring LMT's, home massage/spa room creation, other interesting and new opportunities (both massage and travel related), and, of course, any mobile massage needs you may have in the Greater Seattle area.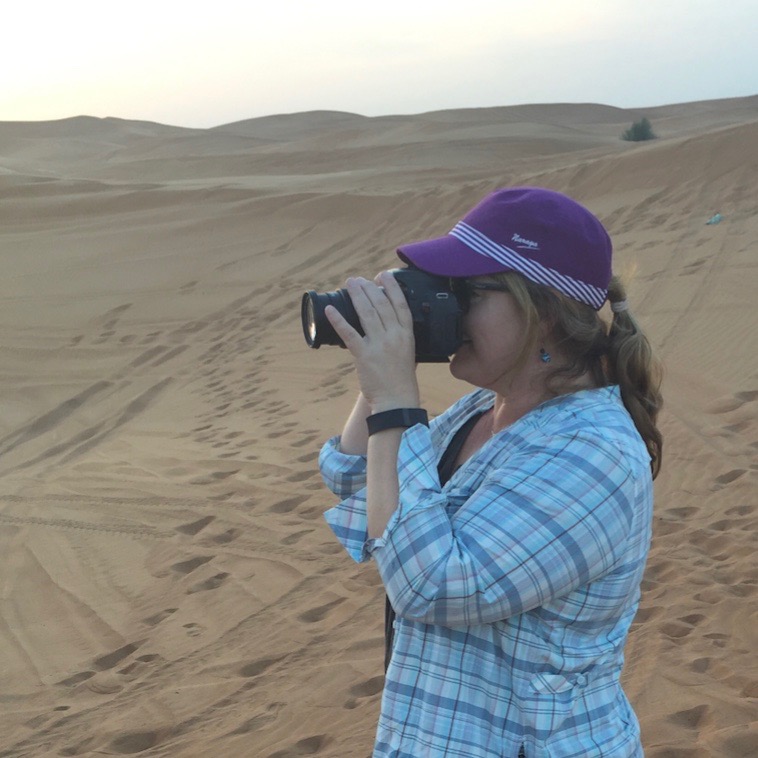 ---
My Future Massage Goals and Travel Plans
My Massage Study wishlist:
To study Hawaiian Lomi Lomi massage on the Big Island, Hawaii.
To study Esalen massage at the Esalen Institute in Big Sur, California
To study Ayurveda in Kerala, India
…and many more
My Travel wishlist:
To explore the great spa towns of Europe, soak in the mineral-rich waters, and drink wine along the way! A few spa towns on my list include:

Spa, Belgium
Vichy, France
Bath, England
Karlovy Vary, Czech Republic
Vidago, Portugal
Baden-Baden, Germany
Sveti Martin na Muir, Croatia
Montecatini Terme, Tuscany Italy
And of course Budapest, Hungary

To explore all the Wine Regions of the World.
A few other destinations on my wishlist

Galapagos islands
To walk along the avenue of the baobabs in Madagascar
Russia, including a train ride on the Trans-Siberian railway
Djibouti
US – Savannah, GA
Maldives and Sri Lanka
Bhutan
Cuba
Portugal and the Azores
Colombia
---
My Travel Schedule
I am currently in the Seattle area, with plans to experience the Finnish Sauna culture in Finland this winter, eat and drink my way through Sicily, Italy this spring and explore more of Egypt this September.
A Few of my Massage and Spa experiences Around the World:
Massage in a cave, Mexico
Private hammam experience by the sea, Lebanon
In-water massage in a lava field, Iceland
Blind massage, Nepal
Traditional Chinese fire cupping, China
Experiencing the Sauna culture, Finland
500 mile pilgrimage and Sports Massage, Spain
Exploring the Onsens, Japan
Massage in Myanmar's trekking Mecca
Relaxing outdoors in the Nordic Spas, Canada
Big Sur sunsets and Esalen Massage, Big Sur
And many more…
---
Writing This Blog
For years, friends and clients encouraged me to blog about my experiences (both massage and travel related). 'Maybe one day,' I thought. Well, finally, I have made the decision to journey outside my comfort zone, to a place I have never been before: the blogosphere. I hope this new experience will be a positive and interesting adventure for me.
While I believe I may have the credentials and experience to write a blog about massage and travel (and what it's like being a massage traveler), I must admit that I do not have a great deal of writing experience. Therefore, please bear with me as I seek to find my online voice and navigate my way around the blogosphere. I am open to any feedback or constructive criticism about this blog and my writing. Please share your thoughts!
---
Follow me on my journey
Questions About Me/This Blog
I'll start with the most common question I get asked:
Do your hands get tired?
Yes, my hands get tired. That is one of the reasons why I take breaks. Long breaks. Travel breaks!
Where do you get massage?
When in Seattle, I like to try a new massage place every month. This may be a new spa or a massage clinic, but most of the time I try to find an independent massage therapist. When I travel, I try to get a massage or spa treatment in every country I visit. I have received massages all around the world. A few of my favorite massages include receiving wonderful therapeutic massages from blind massage therapists in both Nepal and Tibet and experiencing an in-water massage in Iceland's blue lagoon. A few of my favorite spa experiences have included relaxing in a hammam in the Middle East, various onsens in Japan and the list goes on. My absolute favorite type of massage to receive is Thai massage. I absolutely love Thai massage and I try and get one every single day when my travels take me to Thailand and Southeast Asia.
Are you afraid when going into a stranger's home or office for massage?
(This is the second most common question I get asked.)
No. I go with the presumption of hospitality, not fear.
Who takes your photographs?
I have a passion and appreciation not only for massage and travel, but also for photography. Unless otherwise noted, all the photos on my blog were taken by me or are of me. Most of the photos on my company website are stock photos. I wish I were that talented!
---
Whew. Ok. Enough about me.
I hope you will enjoy reading my blog. Please keep in touch!
Thanks for stopping by.
In health and beauty,
Ann
---
DISCLAIMER
Although I am a licensed massage therapist and licensed esthetician, the information posted on this site is not intended to substitute for the advice of a medical doctor.
---